[Written by Don Burgess]
About two dozen marriage equality advocates attended a proclamation at the Cabinet Building, declaring February 7 to 14 as International Marriage Week.
Allan and Mildred Hunt, founders of Heart-to-Heart Marriage Mentoring Ministries, read a list of benefits that marriage has on society, and Deputy Premier Walter Roban also stated several benefits that being married has on society.
They cited research that non-married people are more more likely to be incarcerated, more likely to be the victims of inequality while being married helps reduce poverty.
The speakers added that unmarried couples are more unsatisfied in their relationships, while married couples live longer, have better health, and greater personal happiness. "Simply put, married couples are happier."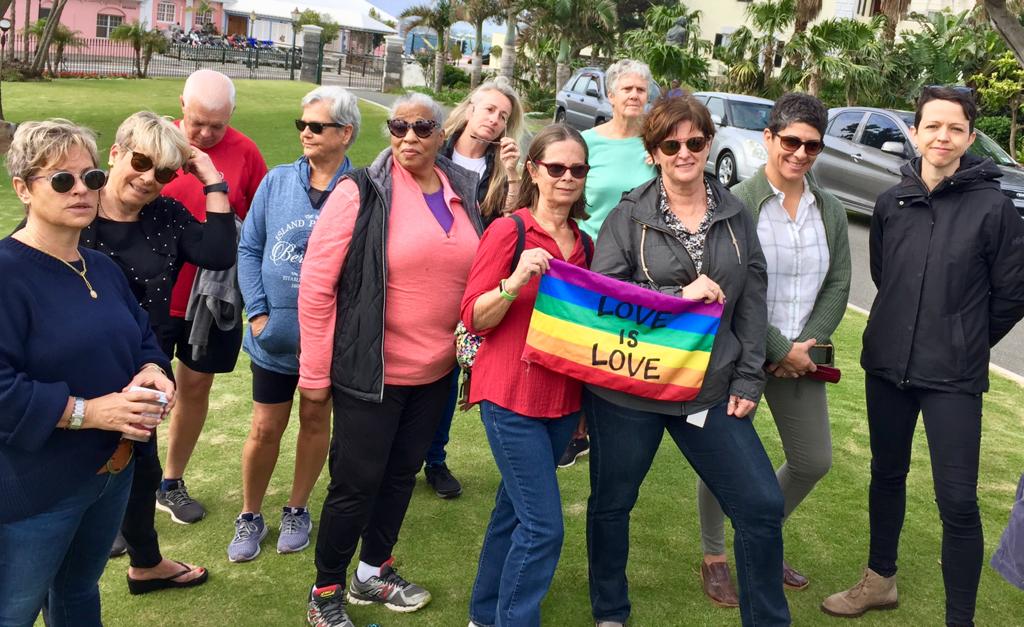 The Deputy Premier echoed those sentiments while reading the proclamation. He said, "Men and women who marry, and stay married, in mutually supportive relationships, generally live longer, experience better health, and enjoy more satisfying lives."
He applauded community efforts to strengthen marriage relationships through education, conferences, enrichment seminars, and public policy that support marriage.
Pastor Sylvia Hayward Harris, who was one of the plaintiffs in the landmark Rod Ferguson case that won a Court of Appeals judgment against the Bermuda Government for outlawing same-sex marriage, attended the proclamation.
She said she found it a bit ironic that the benefits that are being touted as being good for the community between a man and a woman don't seem to apply to same-sex couples.
She told Bernews that all of the benefits that the Hunts and Minister Roban talked about would also apply to the LGBTQ community.
"I believe that marriage is a grave benefit to the LGBTQ community," Pastor Hayward Harris said. "I believe everything he said about the benefits. I believe that should extend to all those who wish to marry."
She said that all consenting adults should have the right to marry. "We're also talking about people who care for and love one another. I don't think anyone should discriminate because your marriage doesn't look like their marriage."
She added: This is really hypocritical because if you really do believe marriage is a benefit to the community, then why are you preventing people from getting married?
Pastor Hayward Harris said LGBTQ couples also contribute to the community, so "why would you deny them it's different from your belief system?"
She pointed out the hypocrisy in Minister Roban's statement in saying that marriage breakdown can "increase the cost to the taxpayer," noting that Government is still pursuing its appeal to the Privy Council, which has cost the taxpayer hundreds of thousands of dollars.
"He's right," she said. "But on the other hand, look at the hypocrisy of that. They are about to spend so much money by taking the case to the Privy Council. They've already spent so much money that it's almost positive that it's not going to succeed.
"They have spent so much money trying to deny people some basic rights."

Read More About