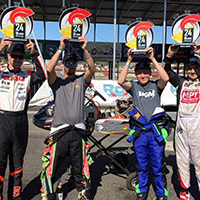 Scott Barnes and David Selley, along with their Simcraft Two teammates, recently concluded competing in the 2020 Simcraft 24 Hours to Orlando Endurance Race.
In the end, the Simcraft Two team finished second in their class and seventh overall out of 33 teams.
The team faced challenges along the way; they started the race in fourth and ran in the top four for the first three hours until moving into the lead in the third hour, but as luck would have it, they blew a motor.
The team was able to get another motor thanks to SimCraft, and after working on it for 45 minutes, they were back on the track.
They slowly climbed their way back up the leaderboard, but then with six hours to go, the pipe broke. Still never giving up, the team continued their mission and as the checkered flag dropped at the 24 hour mark, they had worked their way back to the seventh place spot.

Read More About