A press conference to announce the launch of the Bermuda Principles Foundation [BPF] STEM Scholarships and Awards was held by former Premier Paula Cox and Dr. Carika Weldon, Founding Trustee and Executive Director of BPF, where they were joined by Kevin Warner, co-owner of Planet Math and BPF STEM Partner.
During the event, Dr. Carika Weldon said, "Inspired by the backdrop of a genetics conference which took place in Bermuda in February 1996, where the Bermuda Principles policy was created to ensure all gene sequences remain freely public, I decided to build upon this exciting aspect of our heritage.
"In May 2016, I launched The Bermuda Principles Foundation, which I am proud to say this is the only science outreach charity in the world based on the legacy of the Bermuda Principles.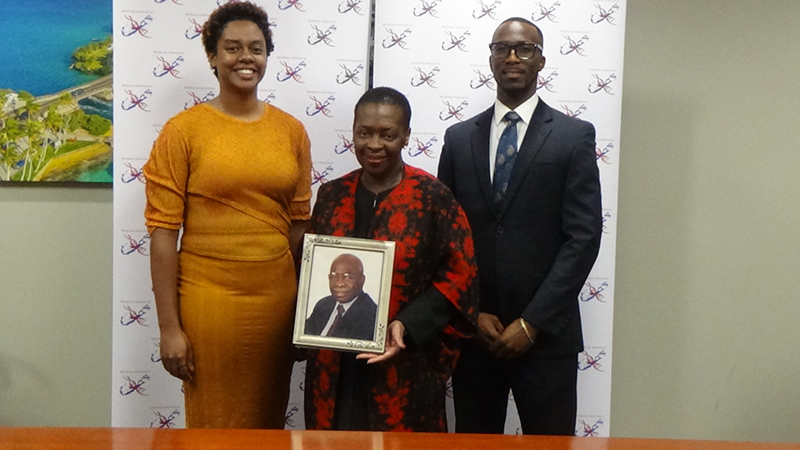 "The Bermuda Principles Foundation's primary objective is to expand science- based opportunities for Bermuda's next generation of innovators. The charity has established five main aims to support this objective: STEM Education; Genetics Research; One-to-One Career Mentorship; Public Dialogue and Scientific Heritage; and Bermuda Culture.
"From our school tours and conferences to obtaining our recent charity status, we are making great strives in fulfilling our main objectives and today marks another significant achievement for us. It gives me great pleasure to announce the launch of our Bermuda Principles Foundation STEM Scholarships and Awards.
"Through this initiative, we will be paying homage to the outstanding work and contributions made by Bermuda's pioneers—the men and women of our STEM industry. Afterall, I stand before you today because of them.
"We are delighted to share that our inaugural award is in honour of the late The Honorable C. Eugene Cox, reputable engineer, the former Minister of Finance and Deputy Premier of Bermuda.
"For 2020 there are five Honourable C. Eugene Cox Awards:
1 Honour Award at $25,000 – Click here for more details.
2 Performance Awards at $15,000 – Click here for more details.
2 Opportunity Awards at $10,000. Click here for more details.
"These awards are open to both Undergraduate and Postgraduate studies for the upcoming 2020/2021 Academic year. Awards can be held for one year with recipients chosen based on strong academic ability and financial need. Any Bermudian student studying a STEM related degree is invited to apply from Friday, February 21st on the bermudascholarships.com website with applications due Monday, April 20th.
"Through partnerships with other STEM organizations, schools and local businesses, the Bermuda Principles Foundation continues to develop a variety of initiatives to raise the awareness of science. We strive to educate the Bermudian public about the importance of science, how it impacts our daily lives and the varied opportunities available.
"One such partnership is with local business, Planet Math, our STEM Partner who joined us for the first time during our school tours this year.
"In closing, we are very excited about the various initiatives coming on board which is expanding our ability to reach Bermuda's next generation of STEM leaders. We have been approached regarding other prospective award honorees and we will be rolling these out in the near future.
"I also want to take this opportunity to extend my sincere appreciation to all of our corporate sponsors and private donors. Thank you."
Paula Cox said, "It is all about relationships. Connecting the Dots. I am pleased to advise that the C. Eugene Cox Education Awards are forging an alliance with the Bermuda Principles Foundation. They are working to expand science-based education in Bermuda and promoting some great initiatives.
"The C. Eugene Cox Education Awards are to encourage studies in the area of STEM- Science, Technology, Engineering and Mathematics. It is a good fit and it would seem that there has never been a better time to leverage the synergy.
"Last week at the Bermuda Principles event one heard about plans underway to embark on a significant genetic research project in Bermuda and to engage Bermuda and Bermudians directly. A young Bermuda College student will have a real opportunity to contribute and to develop meaningful skills through his participation. He will be exposed to experts in this field. I was enthralled.
"So for me attending last week-end's Bermuda Principles dinner was a real blessing. I was impressed and determined that I had to follow up with Dr. Weldon this week.
"When we met, I shared with her that there may be an opportunity through the C. Eugene Cox Education Awards to assist those interested in studying in the STEM sector and assist the goal of the Bermuda Principles Foundation to expand science based opportunities. I liaised with my brothers, who were supportive and said that our parents would be proud.
"This is a passing of the torch in one sense as the Cox charity has wound down. Yet there is the chance to do some good with the monies that have been raised through the kindness of the community. It can make a difference and may be able to provide a much-needed boost to enable successful applicants to pursue their dreams and their STEM studies.
"The aim through the collaboration with the Bermuda Principles Foundation is to directly benefit those who have a need and are aspiring to be in the STEM space.
"We will always have STEM with us. Some things will drop out of the public eye and will go away, but there will always be science, engineering, mathematics and technology. The best way to get students involved in science who want to either follow science careers or incorporate it into their lives or to achieve science literacy is to expose them to the various jobs in STEM.
"It seems there is no better time than now.
"The window of opportunities for those wishing to pursue careers in the science field in Bermuda may be expanding. There is the Fintech initiative. Under the auspices of the Ministry of Home Affairs, with the satellite initiative, last year's NASA Space Camp expanded opportunities are being afforded to our young people in the STEM sector.
"Today the House agenda includes a debate on submarine cables. All of these initiatives from satellites, submarine cables and Space Camp exposure help to broaden the STEM- related options. This is in addition to the sterling efforts of the Bermuda Principles Foundation. Choices with these hi-tech, hi- touch initiatives.
"The late President Nelson Mandela said it best: education is the greatest weapon, which you can use to change the world."
Co-owner of Planet Math Kevin Warner said, "Planet Math is an organization devoted to improving math competency on the island with a mission "to change attitudes towards mathematics ". We achieve this through many of our initiatives, one being the ongoing MATH-A-THON series, which has been very well- received by the principals, parents and community as a whole.
"It is an honor to collaborate with the Bermuda Principles Foundation as a STEM partner. This was our first year to collaborate in a joint initiative, namely the #STEMisMe campaign, where we received an overwhelming response to our video competition, which quite amazingly, drummed up over 4500 votes from the Bermudian public.
"We support the Bermuda Principles Foundation in their efforts to raise awareness to the numerous possibilities STEM can offer, not only for our children, but for the island as a whole."
Read More About
Category: All, News, technology, Videos