The Menuhin Foundation has announced the recipients of their annual scholarship, with Marcolliver Philip and Sam Webel both receiving the award.
A spokesperson said, "Since 1976, The Menuhin Foundation has provided stringed music tuition to thousands of Bermuda's school children free of charge as part of their mandate to foster and develop an interest in music.
"The Menuhin Foundation offers an annual scholarship to students who have completed their Associated Board of the Royal Schools of Music [ABRSM] exams at a Grade 5 level or higher by way of an audition before an independent panel of judges.
"This year, Marcolliver Philip [violin] and Sam Webel [viola] were jointly awarded The Menuhin Foundation scholarship, both being particularly commended for their passion and performance.
Marcolliver Philip and Sam Webel: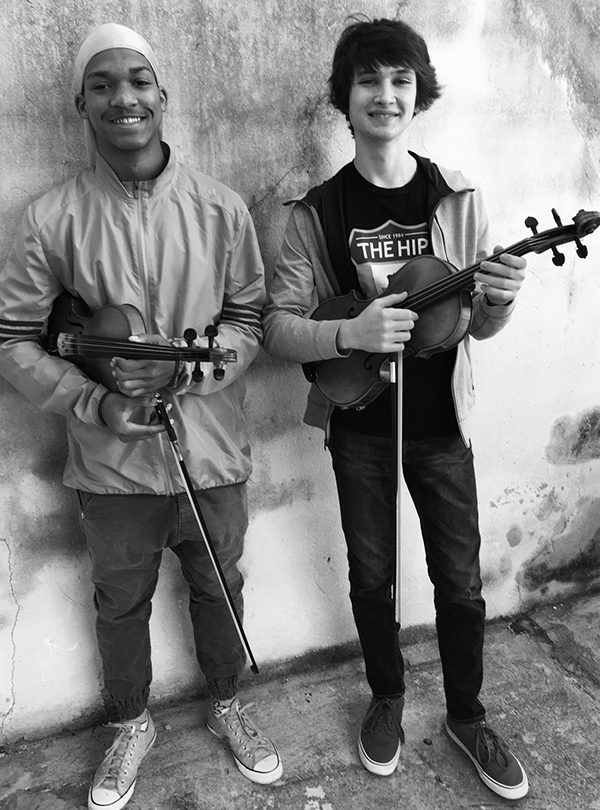 "Coming from a family which has always been keen on music, Marcolliver was spurred on because of his general interest in music. He started playing the violin under the guidance of the Menuhin Foundation approximately seven years ago during his first year of middle school, and this fostered his now great passion for the instrument.
"He is particularly interested in music theory and composition and hopes to pursue music appreciation and music theory classes to facilitate being able to compose.
"Marcolliver says that he doesn't have a particular favorite musical genre per se, although he admits that if he has any preference at all that he would listen to free jazz, which he's always had a fascination for, and progressive rock, his most recent interest.
"For The Menuhin Foundation scholarship audition, Marcolliver played two contrasting pieces: Romance from The Gadfly composed by Dmitry Shostakovich which is a slow and expressive piece, and Intermezzo composed by Zoltán Kodály which is a fast paced and energetic piece."
Following the audition, the judges said, "It was clear from the opening notes of the Shostakovitch Romance that you understood the piece. Your tone was rich, the performance was solid. The Janos Intermezzo was a spirited rendition and you captured the mood of the piece well. We loved your passion when you talked about your programme choices."
The spokesperson said, "Sam has always had musical aspirations from an early age, playing the drums and piano for a few years before he began playing viola at age 9. His interest in viola was inspired by a visit to his school by The Menuhin Foundation teacher Kerry Haslam playing an electric viola for the students in assembly.
"Sam found the comparative unpopularity of viola over violin more appealing and has worked with The Menuhin Foundation ever since. He says that he has grown to greatly appreciate The Menuhin Foundation teachers and community. Sam has also cited inspiration from his grandfather as one of the best jazz pianists Sam has ever known.
"Their bonding through music and the knowledge Sam gained from his grandfather continues to inspire Sam, despite his grandfather's recent passing.
"For the Menuhin Foundation scholarship audition, Sam chose two pieces that were a part of his ABRSM Grade 6 repertoire. The first piece was Minuets 1 and 2 from Bach's First Cello Suite."
Regarding that selection, he said, "I can't even really describe the feeling I got playing this piece for the first time. Bach's suites for Cello are not only enthralling but fit so very well on the viola."
Regarding his second choice – Easy Winners composed by Scott Joplin – he said, "I found the piece a dream to play as it used the full range of viola and overall was just a fun piece to play."
Following the audition, the judges said, "You played the Bach with understanding, expression and great musicality. You truly understood the music and communicated the melodic shape and phrase superbly. The contrast of the Joplin was a great choice and you captured the ragtime spirit in your performance.
"This was an excellent performance from a promising and passionate musician. We enjoyed talking to you about your performance and hearing of your love for the viola."
The spokesperson said, "These two young men are but many examples of some of the outstanding and talented students who are a part of The Menuhin Foundation family."

Read More About
Category: All, Entertainment, Music, News