The Bermuda Football Association [BFA] is getting set to hold its second annual Women's Football Symposium on March 13 and March 14.
A spokesperson said, "The Bermuda Football Association [BFA] will hold its second annual Women's Football Symposium during a weekend for girls and women's empowerment in football. The symposium and activities will start on Friday, March 13 and continue through Saturday, March 14 at the BFA's Clyde Best Center of Excellence and the North Hall Lecture Theatre of the Bermuda College.
"The BFA Women's Football Committee is delighted to announce that Bermuda's own David Bascome, a new inductee to the Baltimore Blast Hall of Fame, will be the guest of honour and play an important role in highlighting the importance of girls and women in football to stay ready.
"The aim of the symposium is to provide a forum where girls and women have an opportunity to network and have open discussions and dialog around the topic of staying ready. The symposium will also focus on three key areas that are critical to successfully growing the game for women and girls in Bermuda who are coaches, players and parents."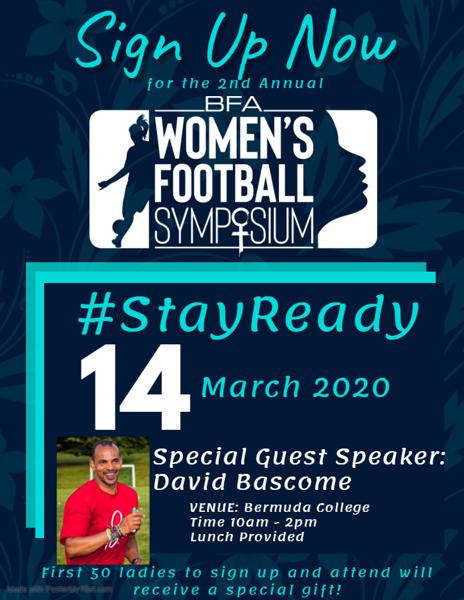 "The symposium will hopefully challenge the participants to understand the importance of staying ready on and off the field for all opportunities that come in life.
"This year we are encouraging:
"Clubs to 'get ready' – Do you want to have a girls' football team? Tips to keep the program strong.
"Parents to 'be ready' – Are you ready for your daughter to take the next step overseas? Come get expert advice on this!
"Players to 'be ready' – Come learn from the experts what it takes to always stay ready for when your spotlight moment comes.
"Everyone to 'stay ready' – How to positively market yourself and be ready to control anything that the world throws at you?
"Events and activities planned for the symposium weekend include a Girls U9 & U11 Tournament [round robin] and the 'Stay Ready' Symposium.
"The symposium promises to be an impactful and empowering occasion for girls and women that should not be missed. Registration details can be found online, by emailing womenfootball@bermudafootball.com, or by calling 295-2199."

Read More About