A section of the Railway Trail in the Bailey's Bay area is closed to the public in order to make repairs, with the Ministry set to construct two retaining walls to strengthen the area.
A Government spokesperson said, "The public will recall that in November 2019 a section of Railway Trail located in the Bailey's Bay, Hamilton Parish area was closed to the public to effect repairs.
"The Ministry of Public Works can report that the stabilization specialist have completed their structural assessment of the area and plans to reinforce the area will commence on Monday March 2.
"In order to accommodate completing the works as soon as possible, as of Monday March 2, a section of railway trail between the two footbridges will be closed to the public.
Aerial photos designating closed section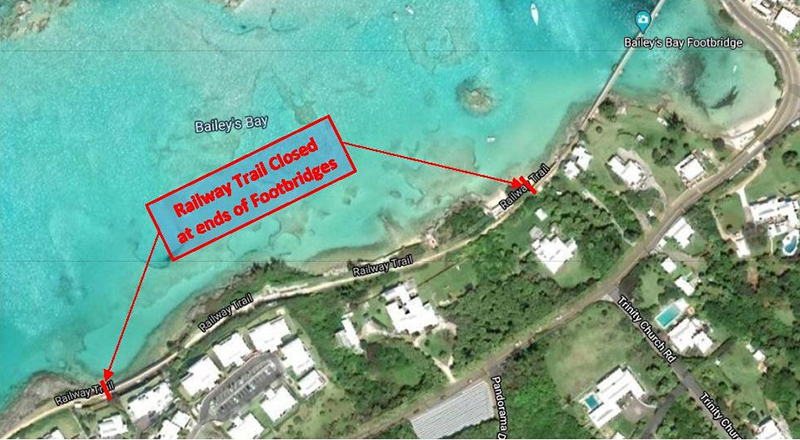 "In addition to directly reinforcing and stabilizing the rock face, the Ministry will construct two retaining walls that will further strengthen the area.
"It is anticipated the work will be completed by the end of May 2020, however, due to the unpredictable nature of ground and rock formations, unexpected delays may occur.
"Barriers and signs will continue to mark and inform the public of the closed section of Railway Trail.
"The Ministry apologises for any inconvenience and urges the public to adhere to the posted signs."
Read More About
Category: All