The Covid-19 Unemployment Benefit application is now live on the Government website, and eligible employees are welcome to apply.
Minister of Labour, Community Affairs and Sports Lovitta Foggo said, "We are pleased to advise that applications for the Government's Unemployment Benefit are now available and can be found here.
"If you are unemployed as a direct result of Covid-19, please review the form and provide the necessary information so that we can assist you.
"We strongly encourage you to fill out the forms online. That is the most safe and expeditious way of completing this process. We are committed to helping those who are facing economic hardships as a result of Covid-19."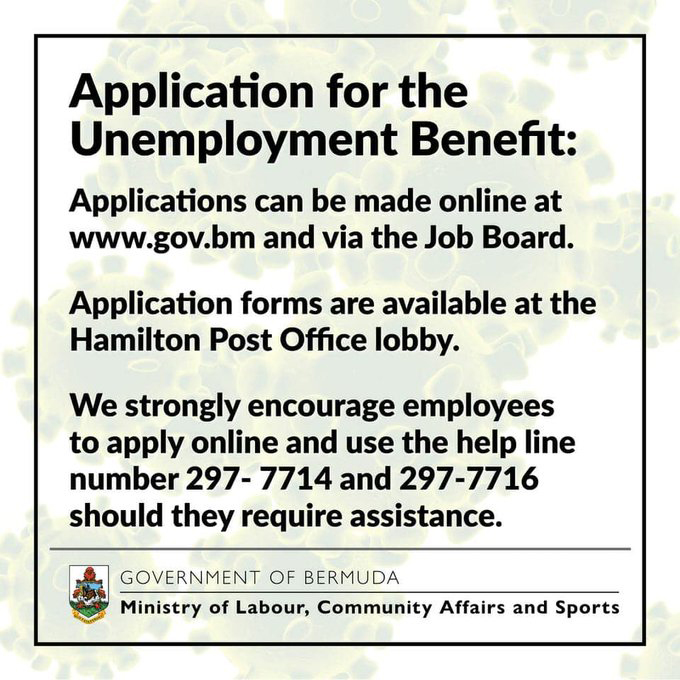 The poster said, "Applications can be made online at www.gov.bm and via the Job Board. Application forms are available at the Hamilton Post Office lobby. We strongly encourage employees to apply online and use the help line number 297-7714 and 297-7716 should they require assistance."
The Unemployment Benefit is for eligible employees not currently on Financial Assistance and provides a payment of 60% of their gross earnings up to a maximum of $500 per week, and employees eligible must meet the definition of an employee under the Employment Act 2000 and be either Bermudian, spouse of a Bermudian, PRC, or work permit holder with a valid work permit who is unable to leave Bermuda owing to travel restrictions.

As the island and world deals with the Covid-19 pandemic, we are doing our best to provide timely and accurate information, and you can find more information on the links below.
Officials are urging everyone to please follow all guidance like washing your hands, adhering to self quarantine if relevant, and practicing social distancing, and they have asked that if it is not urgent, a necessity or work, to please stay home to prevent the spread of the coronavirus.

Read More About