Fireminds has created an online tool to help people find out where their 1/2 mile limit for exercise is, with an easy to use website allowing people to click where they live on a map to create a circle showing the 1/2 mile span.
The 1/2 mile limit is mandated by the Emergency Powers Regulations which states that people can go "for a walk or run, alone or with one other member of the same household, for a maximum period of sixty minutes per day during the hours of 7am to 7pm only, remaining at all times within a distance of one kilometre [half a mile] from his home."
Update | Screenshot from the regulations with the relevant part circled: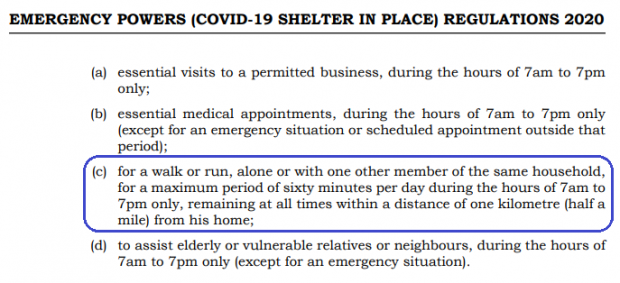 "The Fireminds software team wanted to provide a free tool for the community to map out their ½ mile for exercise. We wanted a tool that was easy to use and reduced the need for the people to call BPS and tie up their phone lines. So far today we've had 23,734 requests to map a ½ mile circle and people seem very happy with it," a spokesperson told Bernews.
While the tool is not an official one, and is just being provided by Fireminds to help people get an idea of what the 1/2 mile limit may be and you should always check yourself to ensure that you are within limits, it provides a helpful idea of the approximate area you should limit yourself to.
Screenshot from the website: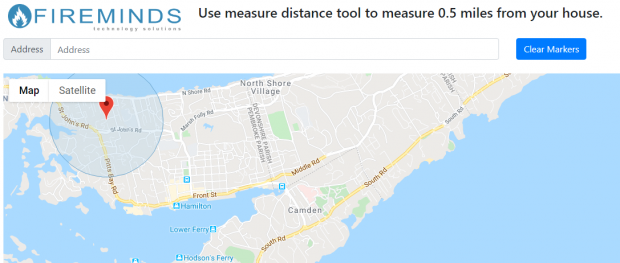 The regulations also note that everyone should always maintain "appropriate social distancing" as in "maintaining a distance of at least two metres [six feet] between all persons who are not members of the same household, and includes such further directions as are published by the Minister of Health on the website www.gov.bm/coronavirus."
Meaning if you are out walking or running, and you see someone from another household, you should stay at least 6 feet away, and also as noted by the police today, the regulations pertain to walking or running, and pedal cycling is not permitted.
You can visit the Fireminds map here.

As the island and world deals with the Covid-19 pandemic, we are doing our best to provide timely and accurate information, and you can find more information on the links below.
Read More About
Category: All, News, technology