Conyers announced the promotion of Francesca Fox, Alexandra Macdonald and Jennifer Panchaud to Director, and Cynthia Millett to Counsel in the Bermuda office.
"We congratulate these four talented Bermudian lawyers on their well-deserved promotions, which reflect the faith that both clients and the firm have in them," said Christian Luthi, Chairman.
"Francesca, Alexandra, Jennifer and Cynthia have demonstrated expertise in their respective practice areas and consistently provide a high level of service to our clients. We wish them continued success in their careers."
Francesca Fox, Alexandra Macdonald, Jennifer Panchaud and Cynthia Millett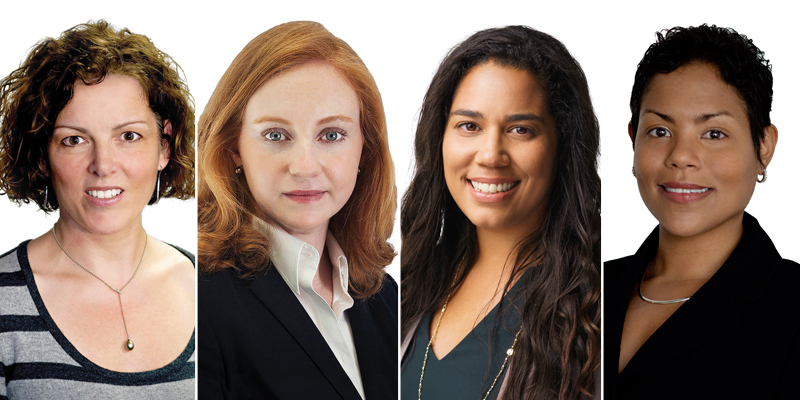 The company said, "Francesca Fox is head of the Real Estate and Property Development practice in Bermuda. Her practice covers all aspects of commercial and residential real estate including issues arising for non-Bermudian purchasers or lenders. She advises companies, banks and individuals in respect of their acquisition, disposal, leasing, development and financing of real estate.
"Alexandra Macdonald's practice includes all aspects of corporate and commercial law in Bermuda, with a focus on insurance and investment fund law and regulation. She specializes in incorporating and licensing insurers and reinsurers of all kinds, and in the creation and offering of cat bonds. Alexandra also has expertise in establishing investment funds of all kinds and has an active general practice including advising on acquisitions, continuations, amalgamations and reorganisations of Bermuda local and exempted companies.
"Jennifer Panchaud's practice includes all aspects of corporate and commercial law, with particular experience in corporate reorganisations, securitisations and advising on Bermuda law aspects of transactions for both local and exempted companies. She also advises on [re]insurance regulatory and transactional matters.
"Cynthia Millett's practice is focused largely on residential real estate transactions and she has extensive experience advising both local and international clients on a wide range of property issues. She acts for individuals and banks in relation to conveyancing, mortgage and lease transactions."

Read More About