Pay It Forward Bermuda launched #25daysofPIF a campaign designed to encourage residents of Bermuda to spread random acts of kindness.
A spokesperson said, "In these uncertain times of Covid-19, we at Pay It Forward Bermuda, want nothing more than for our residents to be calm and healthy and to take care of those in our community who need us most. We believe that by encouraging Bermudians to focus on others by performing random acts of kindness, we may not only change lives but impact the health of our community."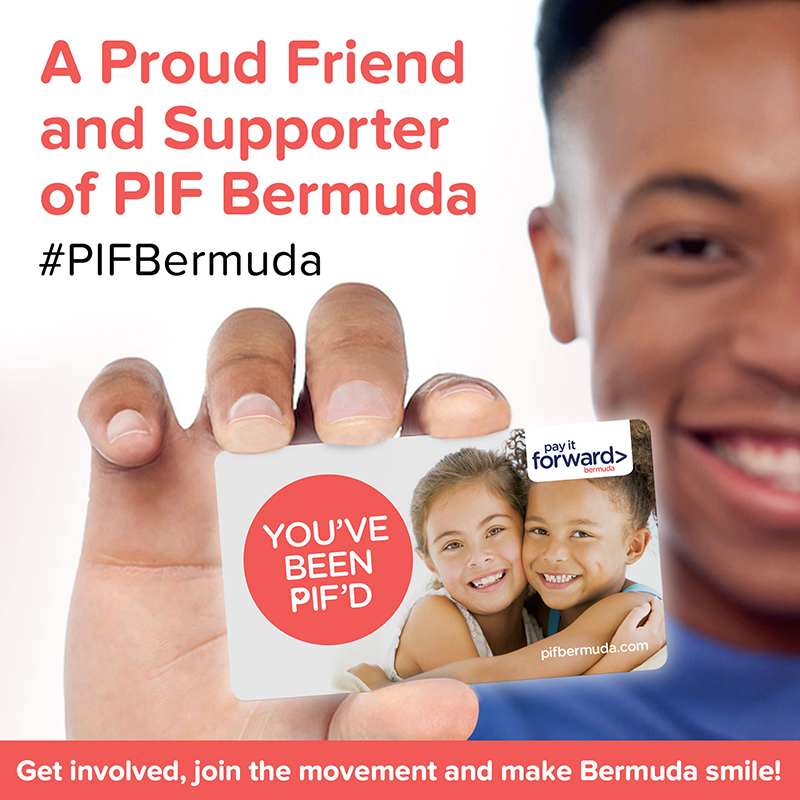 "According to numerous scientific research studies, witnessing or performing acts of kindness can have a tremendous impact on our lives. Benefits include; an increase in the production of oxytocin which lowers blood pressure and increases optimism. When you perform a kind act for another person, your brain's pleasure centers light up, and you experience a phenomenon called the "helpers high". Kindness also increases one's sense of calm and happiness.
"For the next 25 days leading up to National Pay It Forward Day on April 28, 2020, Pay It Forward Bermuda will release a new Pay It Forward Act [A PIF] for residents to perform every day.
"To drive the movement, Pay It Forward Bermuda teamed up with a group of local community leaders and influencers who will be helping to generate support online. The group includes Allison Lacoursiere, Carla George, DJ Chubb, Dejon Simmons, Qian Dickinson, Mikaela Ian Pearman, Kristen Carreiro, Patrina O'Connor-Paynter and Patrice Frith-Hayward.
"This is a great opportunity to get the whole family involved and make a difference. We are sheltering in place to protect our community, let's take it a step further and use our time to do good online, with our families and for our community." said Pay It Forward Bermuda Founder Leah Dean.
To participate in the campaign, residents, and supporters should visit the @PIFBermuda Facebook and Instagram pages, where inspirational posts and a new PIF video will be released every morning at 10 am. Then for the next 24 hours, residents are encouraged to complete the act of kindness and share online using the hashtags #pifbermuda #25daysofPIF.
#25daysofPIF organizer Patrina O'Connor-Paynter said, "Bermuda really needs this right now. The PIFbermuda campaign reminds us that every single person has the capacity to touch someone and make a difference."

As the island and world deals with the Covid-19 pandemic, we are doing our best to provide timely and accurate information, and you can find more information on the links below.
Officials are urging everyone to please follow all guidance like washing your hands, adhering to self quarantine if relevant, and practicing social distancing, and they have asked that if it is not urgent, a necessity or work, to please stay home to prevent the spread of the coronavirus.
Read More About