Move Bermuda Forward and Women's ACT will be holding the "Stop The Disconnect Part 2" virtual discussion on Sunday [June 28] at 8.00pm.
A spokesperson said, "On Sunday June 28th 2020 at 8:00pm sharp, both social Advocacy groups, [Move Bermuda Forward & Women's ACT] would like to invite members of the public to an evening of discussion on matters pertaining to our judicial system, and its impact on female victims of violence in Bermuda.
"This installation is the second in a series of Open Mic like Zoom meetings, aimed to get public consultation, for the production of a Letter of concerns, and recommendations, that will be presented to the Commission of Police Stephen Corbishley entitled, 'The Purple Paper'.
"Previous meetings were well attended by, The Center Against Abuse's Director Laurie Shelly, MP of Constituency #4 MP Tinee Furbert, and Managing Director of Skuld [Bermuda] Ltd Tawanda Tannock. All of whom contributed richly to the conversation.
"Both hosts, Dany Pen [founder of The Women's ACT] & Robyn Swan [founder of Move Bermuda Forward] would like for this 'Purple Paper' to serve as a bridge between the Community and the Bermuda Police Service. Our efforts are not intended to demonize the BPS, but instead become a catalyze for healthy growth, and transparent relationship between the BPS & the people of Bermuda whom they serve.
"All are welcome to join the conversation this Sunday June 28th on Zoom at 8:00pm.
Meeting: 797 2485 1559
Password: STOPBDA
"For any further questions or concerns you can join the [Move Bermuda Forward or The Women's ACT] Facebook Groups or contact Robyn Swan directly via Email: RSwanBDA@hotmail.com."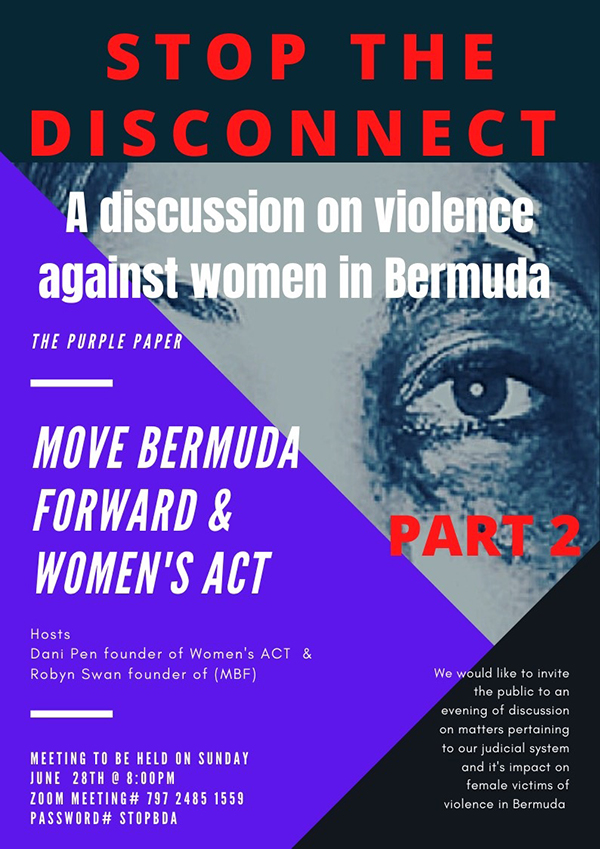 Read More About