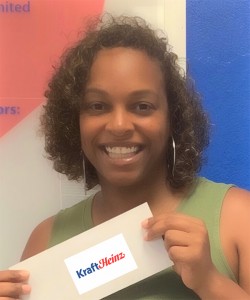 KraftHeinz and Butterfield & Vallis completed the first quarter of their 2020 Kraft Cares Campaign at the end of April, with $5,914.37 presented to the Bermuda Heart Foundation.
For a limited time, with the purchase of any Kraft Cheese product at stores throughout Bermuda, a percentage of sales was accrued to be donated to the Bermuda Heart Foundation.
Simone Barton, CEO of the Bermuda Heart Foundation, commented: "When it comes to healthcare people should not have to choose between putting food on the table or being able to pay for their doctors' visits especially when it comes to matters of the heart.
"The world is affected by a host of illnesses that are well beyond our control to cure; heart disease is not one of those illnesses. For nearly twenty-five years, the Bermuda Heart Foundation has been an active charitable organization championing heart health care and awareness.
"Over the decades, our work and achievements have been driven by our passion and overriding determination to improve the quality of heart health in Bermuda.
"But it would not have been possible without generous donations received from companies such as KraftHeinz. We wholeheartedly thank you and the amazing Butterfield & Vallis Family."
For the months of May, June and July, funds raised from the Kraft Cares campaign, will be donated to the Eliza Dolittle Society.
The management and staff of both KraftHeinz and Butterfield & Vallis said they would like to "thank everyone for purchasing Kraft Cheese and supporting these incredible charities."
Read More About