KraftHeinz and Butterfield & Vallis donated $3,600 to the Bermuda Diabetes Association.
A spokesperson said, "KraftHeinz and Butterfield & Vallis recently completed the third quarter of their KraftHeinz Cares Campaign. With the purchase of any participating KraftHeinz product, including Kraft mayonnaise, Heinz ketchup, Kraft dressing, Kraft barbecue sauce, Heinz mustard and Heinz relish, at stores throughout Bermuda, a portion of sales was accrued and a cheque for over $3,600 was presented to the Bermuda Diabetes Association.
"To-date, over $40,000 has been donated to the following charities: PALS, Bermuda Cancer & Health, Bermuda Zoological Society, Meals on Wheels, Big Brothers Big Sisters, Coalition for the Protection of Children, Endeavour Community Sailing Programme, KBB, BASE, Bermuda Red Cross, Women's Resource Centre and Action on Alzheimers and Dementia.
"The charity for November, December and January is WindReach Bermuda. WindReach is a fully-accessible 4 acre facility and is unique in that it offers a variety of therapeutic and educational experiences for people with varying physical and intellectual abilities."
Sara Bosch de Noya, Diabetes Educator at the Bermuda Diabetes Association and Gil Rodrigues, Account Executive at Butterfield & Vallis.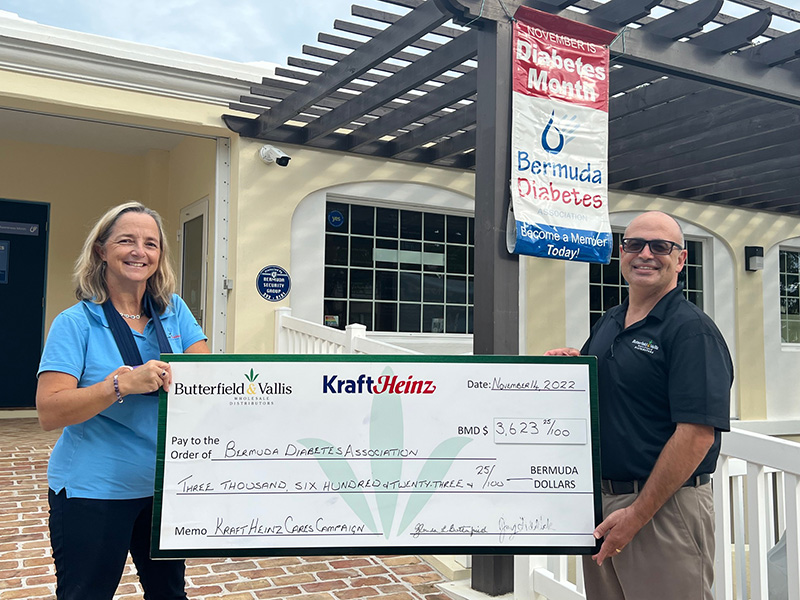 Read More About