[Updated] Bermuda's NASA Tracking Station on Cooper's Island played a role in the historic SpaceX and NASA launch of astronauts on Saturday [May 30], with the station providing data as it monitored the launch.
The launch was successful, taking the astronauts into orbit before they docked with the International Space Station [ISS] yesterday [May 31].
In advance of the launch, NASA website said of the mission, "A new era of human spaceflight is set to begin as American astronauts once again launch on an American rocket from American soil to the International Space Station as part of NASA's Commercial Crew Program.
"NASA astronauts Robert Behnken and Douglas Hurley will fly on SpaceX's Crew Dragon spacecraft, lifting off on a Falcon 9 rocket at 3:22 p.m. EDT May 30, from Launch Complex 39A in Florida, for an extended stay at the space station for the Demo-2 mission. The specific duration of the mission is to be determined.
Photo courtesy of NASA: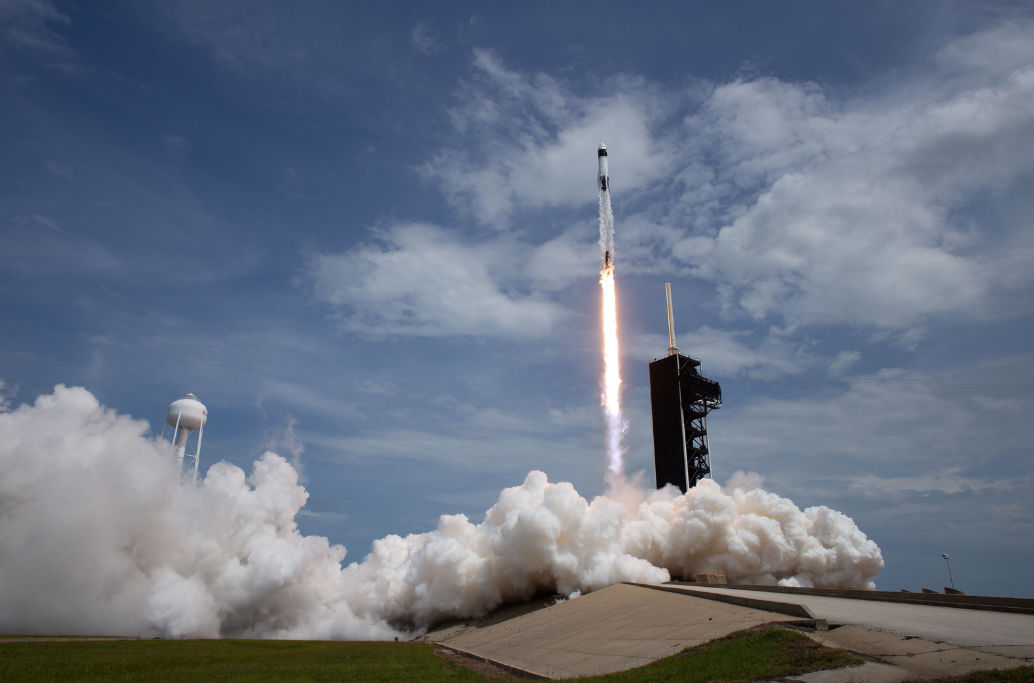 "As the final flight test for SpaceX, this mission will validate the company's crew transportation system, including the launch pad, rocket, spacecraft, and operational capabilities. This also will be the first time NASA astronauts will test the spacecraft systems in orbit.
"Once in orbit, the crew and SpaceX mission control will verify the spacecraft is performing as intended by testing the environmental control system, the displays and control system and the maneuvering thrusters, among other things. In about 24 hours, Crew Dragon will be in position to rendezvous and dock with the space station.
"After successfully docking, Behnken and Hurley will be welcomed aboard station and will become members of the Expedition 63 crew. They will perform tests on Crew Dragon in addition to conducting research and other tasks with the space station crew.
"The Demo-2 mission will be the final major step before NASA's Commercial Crew Program certifies Crew Dragon for operational, long-duration missions to the space station.
"This certification and regular operation of Crew Dragon will enable NASA to continue the important research and technology investigations taking place onboard the station, which benefits people on Earth and lays the groundwork for future exploration of the Moon and Mars starting with the agency's Artemis program, which will land the first woman and the next man on the lunar surface in 2024."
At the Cooper's Island station's ribbon cutting ceremony in 2018, a spokesperson said, "The tracking station will assist NASA in monitoring current and future missions, including the use of launch vehicles, which are designed to deliver satellites and rockets into orbit and supplies to the International Space Station," a spokesperson explained.
"Bermuda has been a long-time partner with NASA dating back to the Mercury Project and the Apollo lunar program in the 1960s, when Bermuda hosted a radar tracking station that monitored the progress of spacecraft lifting off from Cape Canaveral, Florida, in the same location as the new facility."
U.S. Consul General Dierman said, "Now, as then, Bermuda is helping make possible new advances in space flight and in advancing science, engineering, technology, and math education objectives.
"We are delighted they are here to recognize and further our important U.S.–Bermuda relationship. Historically, Bermuda has formed an important part of NASA's worldwide network of tracking and data stations."
Update 4.05pm: A Government spokesperson said, "Bermuda has been congratulated on its role in successfully supporting Saturday's historic launch of two NASA astronauts into orbit onboard a SpaceX rocket from Florida's Kennedy Space Center, by the Space and Satellite Policy Advisory Panel.
"The panel, an advocacy group established in June 2018 by Deputy Premier and Minister of Home Affairs the Hon. Walter Roban JP, MP which consists of local and international specialists in space and satellite related industries, noted that the May 30th 2020 launch continued a tradition of Bermuda playing a key role in important space missions.
"This remarkable achievement would not have been possible without Bermuda's launch tracking support from Cooper's Island, a fact which should make all Bermudians proud. It is perhaps fitting that Saturday's launch was initiated from the same launchpad as the Apollo missions, which Bermuda also played a key role in supporting. The SpaceX launch – a high-profile example of how Bermuda is enabling the future of space – draws attention to Bermuda's capabilities and helps to build Bermuda's credibility as a leading space jurisdiction."
"In acknowledging the congratulatory correspondence from the Space and Satellite Policy Advisory Panel, Minister Roban reiterated Bermuda's role in the space industry, including future opportunities for Bermudians.
"Bermuda is used by other countries for earth station locations – these are essentially observation and monitoring points for rocket launches. As a result, Bermuda's position is critical for some launches, like those that are responsible for sending supplies for re-stocking the International Space Station. Both NASA from the U.S. and the European Space Agency [ESA] use Bermuda for earth stations. At the moment, in order for these launches to happen, their technicians have to come to Bermuda. However, we are embarking on a program of training Bermudian technicians to be able to assist with launch monitoring and observation in the future. By having local technicians at the ready, Bermuda can offer a broader range of services going forward."

Read More About
Category: All, News, technology, Videos