The MTM COVID Open tennis tournament held at Fairmont Southampton Courts wrapped up in spectacular fashion with the Men's Singles Champion being crowned as 18‐year‐old Richard 'Trey' Mallory.
'Trey' Mallory shone bright at the MTM Tournament this past week. Despite having a top 500 ITF World Junior ranking Mallory came into the local tournament as an unseeded player, not having played enough local events to accumulate local ranking points.
This did not discourage Mallory as on his way to clinching the championship he defeated No. 4 seed Scott Redmond, 6‐0, 6‐1, then upset No. 1 seed Tariq Simons, 6‐1,6‐1.
The men's finals match was played on Sunday July 5th at 2pm which saw the matchup between Men's No. 2 seed Gavin Manders and Trey Mallory.
File photo: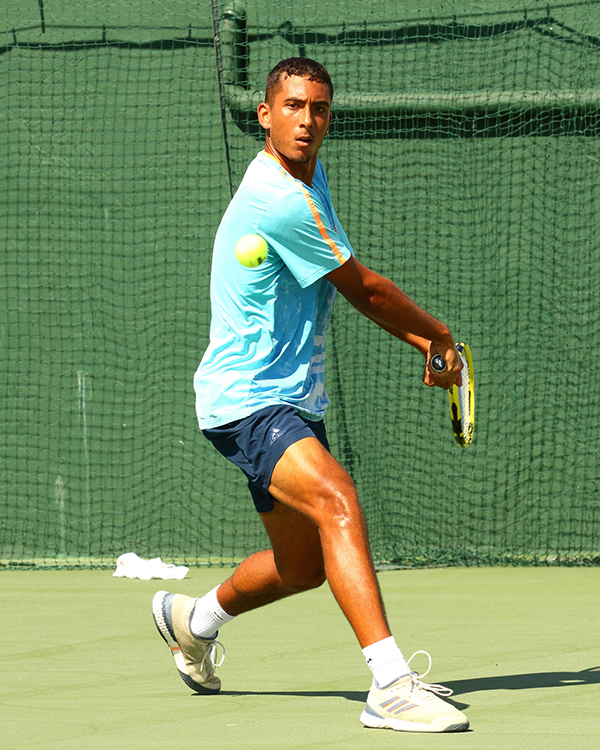 The first set started under overcast conditions following morning thunderstorms. The real thunder would be on the court that day. Manders took an early and strong lead over Mallory, leading the first set 5‐2. Mallory found his rhythm and slowly edged back to push Manders to 5‐5. Manders with his fighting spirit didn't let down and pressed to win the first set 7‐5.
It looked set to be a battle between the two players, the opening of the second set saw Manders serve first and Mallory broke his serve to win the first game. Mallory then served to take it 2‐0.
Mallory started to move Manders around the court and utilized some key drop shots to keep Manders off balance. Mallory continued to play smart, moving his opponent around the court, capitalizing on key points which led to Mallory winning the second set 6‐0.
The third set saw similar play, some great shots by both players, but ultimately Mallory proved too strong and consistent for Manders, beating him in the final set 6‐1, to take the match in fine fashion 5‐7, 6‐0, 6‐1.
When asked what he thought of the match Mallory said, "It feels good to win! I was slightly nervous going into the event; sometimes I feel the pressure from everyone's expectations. I have never played Gavin in a tournament match, and I knew just from my experiences traveling with Gavin at Davis Cup that it was going to be a battle.
"I've been stuck home since the end of March due to the pandemic and thankful to have my dad work with me on the tactical side of my game and I'm also grateful to Gavin and Jovan Whitter of MTM for all their input in training. I will be looking forward to the BLTA 2020 Tennis Cup Match Classic being held on July 25th & 26th at the WER Tennis Stadium."
BLTA President Mike Wolfe was on hand to watch the match and had this to say, "Tennis fans today and throughout the past weeks have been treated to some great tennis. It is especially enjoyable to see the so many of the future stars of Bermuda tennis putting on quality performances and announcing themselves as ones to be reckoned with.
"Many of the match ups rarely happen in local tournaments due to several of our top young players being based overseas, so this has being a treat for local fans and has injected a new energy into the local tennis scene. The BLTA would like to thank all the players who have been participating and also MTM for hosting the past couple of tournaments which certainly provided a welcome break to current world events."
In the Ladies final, Kirstin Saltus bagged her second and held on to her ladies number 1 ranking by defeating Morgan Lightbourne 6‐3, 6‐2
In the Girls 18's Shelby Madeiros defeated Emma Astwood 6‐4, 6‐3
In the Boys 16's division Mackai Whitter defeated Bobby Bart 6‐2, 7‐6 [7]
In the Boys 14's division Vincent Boisvert defeated Cooper McGuire 7‐6, 6‐1
In the Boys 12's division Zack McGuire defeated Johnny Bart 6‐4, 7‐5

Read More About