An 'Appreciation Celebration' to mark the anniversary of the 1959 Theatre Boycott will be held tomorrow [July 2] at City Hall.
A spokesperson said, "On Thursday, July 2nd from 12.30pm to 1.30pm, there will be an Appreciation Celebration at City Hall marking the anniversary of the success of the Theatre Boycott. That two-week peaceful campaign, championed by ordinary people, culminated in an extraordinary breakthrough for Bermuda, on July 2, 1959.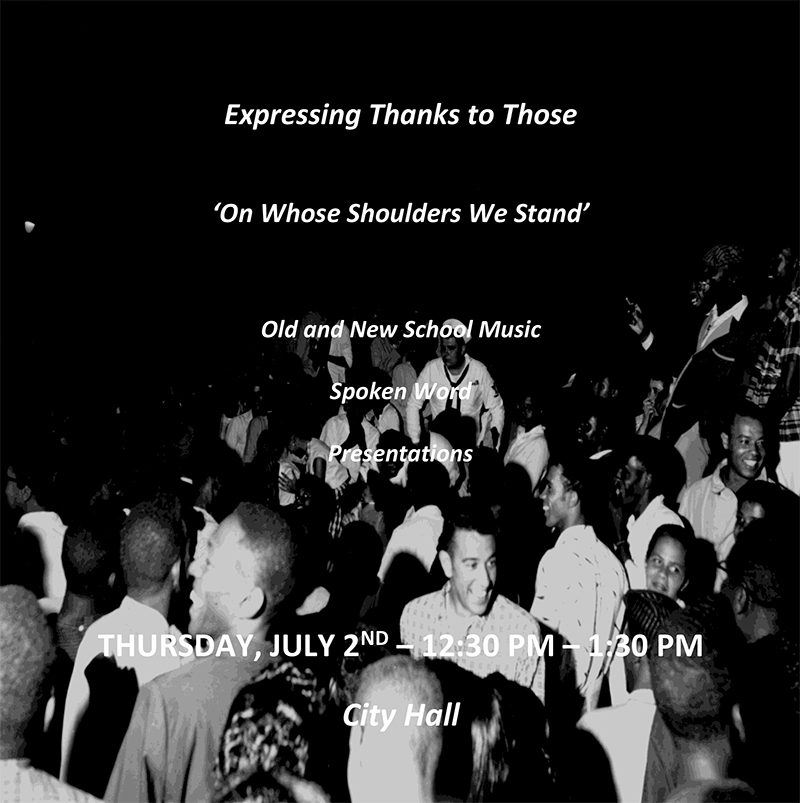 "That transformational shift, achieved without violence, toppled the dominoes of segregation. While engendering a sense that 'Black Lives Matter', the movement also leveraged key momentum in fostering a democratic Bermuda – the right to vote, for all.
"This Appreciation Celebration is an expression of thanks – while wearing masks – to those many on whose shoulders we stand today.
"Minister of Community Affairs and Sport Lovitta Foggo and Shadow Minister Ben Smith will provide brief presentations on those significant contributions. Kristin White of Social Justice Bermuda will speak briefly on its implications today.
"The Boycott involved spontaneous, creative collaboration by many. Highlighting that spirit, the celebration will involve the arts. Teen vocalist Indigo's voice speaks for itself. The island's premier music group Hindsight will be joined by their mentees, the new group 2nd Division, exemplifying cross-generational collaboration.
"Chewstick will provide offerings of spoken word, while young painter/artist Carlos Santana Dill-Trott will engage spectators.
"There will also be a surprise presentation, highlighting – here in 2020 – the non-violent nature of that watershed of 20th century Bermuda.
"The celebration is a joint venture of groups including Bermemes, BSOA, Chewstick, CURB, Imagine Bermuda, and Social Justice Bermuda. There is also collaboration with the Corporation of Hamilton, the Ministry of Community Affairs & Sport, and the Ministry of National Security."
Read More About