Conyers has donated $15,000 in support of the Each One Reach One Back to School Campaign run by the Gina Spence Productions charity.
The campaign aims to assist families in need to purchase school uniforms in preparation for the school year. More than a dozen Conyers employees have also volunteered to help distribute the gift cards used to buy uniforms and the staff volunteers have set commitments to contribute over 40 hours towards this cause.
BNV discussion with Gina Spence held on August 11:
"We are pleased to help with this initiative in preparation for the upcoming school year, especially given the social and financial impact of the COVID-19 pandemic on families in Bermuda," said Lisa Spencer-Arscott, Global Head of Human Resources.
"Gina Spence Productions has been running the Each One Reach One campaign for eight years now and says that this year the number of families needing help to pay for school uniforms is higher than ever before. Back in April, Conyers pledged $100,000 to support those in the Bermuda community affected by the pandemic and this campaign fits perfectly with that goal.
"The firm has so far also donated $15,000 to the Salvation Army, $15,000 to the Coalition for the Protection of Children and $15,000 to the Paget Primary PTA for the purchase of laptops for use by children who need them for remote learning.
"The balance of the funds pledged will be donated in the coming months to other charities that are providing relief as a result of the crisis and we look forward to supporting other appropriate programmes and projects in due course."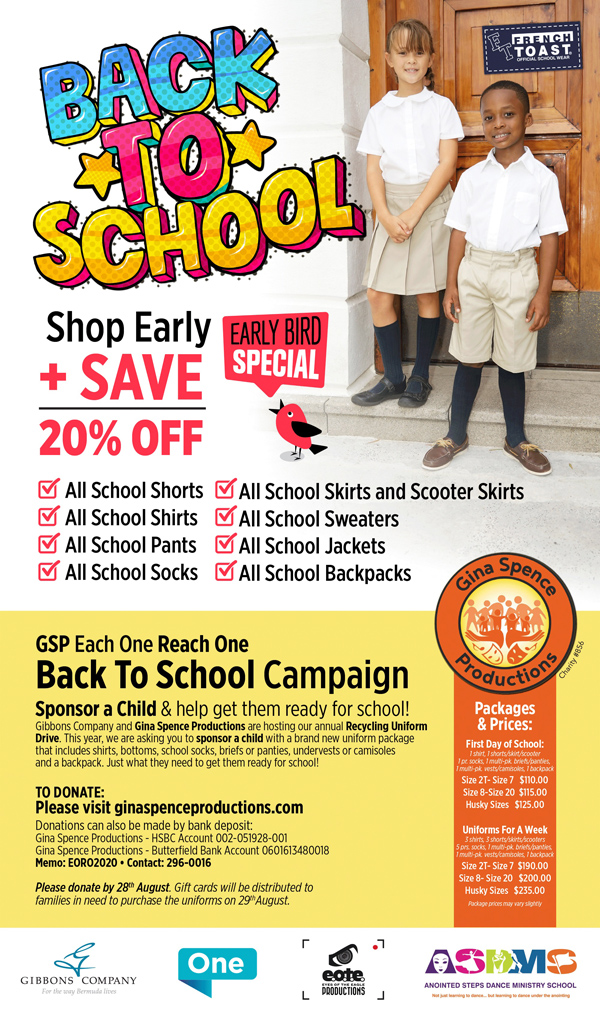 Read More About