[Written by Dale Butler]
The island was recently blessed with two well organised Covid-19 regulated concerts at outdoor venues demonstrating that such concerts can be held.
The first concert, entitled 'A Night of Soul,' was held at the Bernard's Park complex organised by A New Life Charity 1011.
Prior to the show, Don Burgess did an excellent job interviewing charity founder LaKiesha Wolffe, whose journey from a serious accident was assisted by her family to the point where she is happy, confident, and determined to raise funds to open a special clinic for amputees in Bermuda.
Her testimony, given during the event with lots of thanks, was very touching. The charity has already organised a few events and has a variety of things it would like to do once we have completely passed the Covid pandemic.
The intimate gathering was hosted by Nyoaki Wiliams, who is really growing confidently into this role. Tiffany Fox, the head of the String Collective, is the music teacher at CedarBridge Academy and maintains very high standards.
She was beautifully attired and let us know from the first note that she is one of the best violinists in Bermuda. A few of her selections were "Perfect" by English singer-songwriter, Ed Sheeran, "The Prayer" by David Foster, Carole Bayer Sager, Alberto Testa, and Tony Renis, and "If I Ain't Got You" by Alicia Keys. Tiffany Fox, playing from memory, would have impressed her great grandmother, the late pianist Maude Fox.
With the theme focused on young people, and not veteran professional performers, young Justin Ebbin, a student at Bermuda Institute and former student of Wendell "Shine" Hayward, let us know that he did not need music sheets in front of him as he demonstrated what it meant to be totally proficient with a golden touch on his alto saxophone that indicated that he had perfect embouchure and maturity.
His dynamics, pitch, and articulation were breathtaking. He could easily command a seat as a soloist or dominate a band here or abroad. A rising star whose sound is sweet with lots of fibre. "Jesus, You're the Centre of My Joy" by Richard Smallwood was a tearjerker that stopped all talking. He also performed "That's What Friends Are For" by Burt Bacharach and Carole Bayer Sager.
The evening was closed with Bermuda's best singing all-male group who specialise in the soul era, none other than the Soul Brothas. Dedicated and with years of experience, they practice a great deal and it is not surprising they are in high demand.
Kenneth "Pop" Simmons, Gerald Swan, Alton Richardson, Randy Edwards, and Roger Butterfield know the 1960s song book backwards and left lasting memories with songs like "The Way You Do The Things You Do" by The Temptations, "Always and Forever" by Heatwave and "If You Don't Know Me By Now" the Kenny Gamble and Leon Huff mega hit.
Notable in the audience were Paradise leader Wendy Flood [piano], Lloyd Williams [flute], and Bermuda Entertainers' Union President, Selena Fields, who made a financial donation to the charity on behalf of the Union.
The second concert introduced a new venue on the corner of Court and Victoria Streets on the lawn of the late Dr. Charles A. Smith [1902-1992].
Produced to say farewell to Cleveland "Outta Sight" Simmons, a 77-year-old music veteran, with boundless energy and ideas, it featured him as a singer and as a carbon copy of James Brown. Absolutely amazing!
Joined by June Caisey [Poem: And Still I Rise], David "Papa D" Burch [The Rainbows], Wency Woolridge [bass], and John Burch [guitar], they made a fine attempt to re-create the old days of The Rosebank.
Mr. Simmons will shortly join his family in the UK and he used the opportunity to thank Bermuda for being so receptive to The Bermuda Legends, who were his back-up fellow performers. Mr. Simmons was never in 77 years 'outta sight' because he was deeply involved in all aspects of music, production, and youth development, having opened doors from Government House to the Premier and the heartbeat of Hamilton. We wish him well.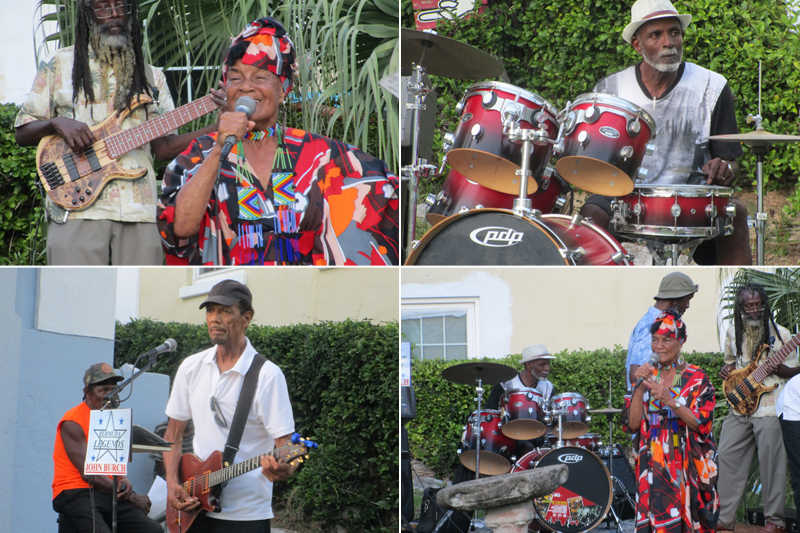 - Dale Butler is the author of "Music on the Rock"

Read More About
Category: All, Entertainment, Music, News