[Review written by Dale Butler]
On Saturday, July 18th, the Flame Restaurant at 89 North Shore, Devonshire, came alive with entertainers Jesse and John Seymour, Ben Payne, and saxophonist Tino Martinez. The show opened with Ben singing and playing guitar to a mature audience starving for live music.
His versions of Redemption Song, Sitting on the Dock of the Bay, and Blackbird Singing in the Dead of the Night were flawless and set the bar high in this idyllic oceanfront venue with great service and a perfect sunset.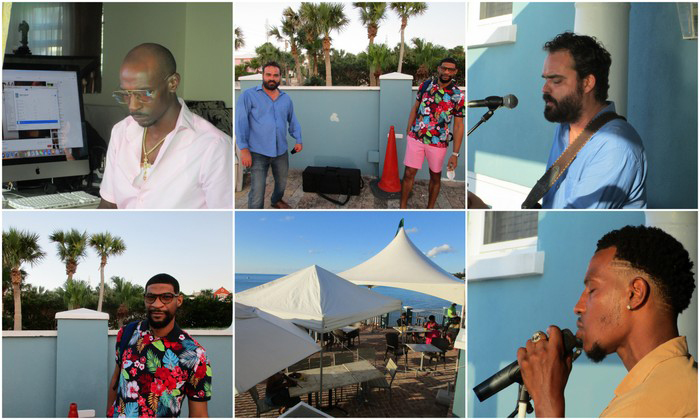 This was my introduction to hearing Ben and I was very impressed. Ben has performed with Sai Emery, Jeffrey Marshall, and David Skinner, to name but a few, and he has a bright future ahead of himself as a soloist or band member. His rendition of 'Ain't No Sunshine When She's Gone' laid a firm foundation for what was to come.
The main act saw the entry of the Seymour brothers who joined Ben and performed an endless repertoire of modern and classic favourites never missing a beat, with Jesse serenading the crowd when he came off the stage with 'My Girl: I've Got Sunshine On a Cloudy Day' by The Temptations. Bermuda Entertainers' Union President Selena "Va Va" Fields was most impressed with the event and has led the way with her own cruises attempting to provide entertainment and employment for local musicians.
The night was complete when saxophonist Tino Martinez joined the group. No doubt his 6 p.m and 9 p.m shows on Saturday, August 8th at The Bluewaters Anglers Club will be sold out. He was the icing on the cake and just what locals needed. I commend the organisers for a well-organised event which featured good music in a friendly and relaxing atmosphere.
The Flame has achieved a good reputation for its location, service, and food and the special menu for the event was well received by patrons who came dressed to impress. The $50 admission cost covered the entertainment, snacks, and two drinks and will be repeated July 29th from 7.00pm to 10.00pm.
- Dale Butler, Author of Music on the Rock

20 Most Recent Opinion Columns

Opinion columns reflect the views of the writer, and not those of Bernews Ltd. To submit an Opinion Column/Letter to the Editor, please email info@bernews.com. Bernews welcomes submissions, and while there are no length restrictions, all columns must be signed by the writer's real name.
-


Read More About
Category: All, Entertainment, Music, News