The Bermuda Government is spotlighting some of the health professionals who have helped during the pandemic, with this profile highlighting Child Health Coordinator Laura Lynn Jackson.
Ms. Jackson's Covid-19 Health Profile says, "Even before Covid-19 reached a pandemic status, Child Health Coordinator Laura Lynn Jackson and her team of health visitors and school nurses had already prepared for potential community-level disease outbreaks in Bermuda; training to strengthen their skills in public and population health, prevention, and responsiveness to outbreaks.
"When the virus arrived in Bermuda Ms Jackson reallocated her staff to respond to the public's health needs, with several nurses and health visitors assisting with testing or supporting the Epidemiology and Surveillance Unit This may have left a smaller team to run the everyday operations and programmes like the Health Child Programme but Ms Jackson worked with her team to identify effective and efficient ways to operate under the current circumstances and the new goals of their respective assignments. She then went on to partner with other departments and their staff to prepare Bermuda's schools for safe and healthy reopening."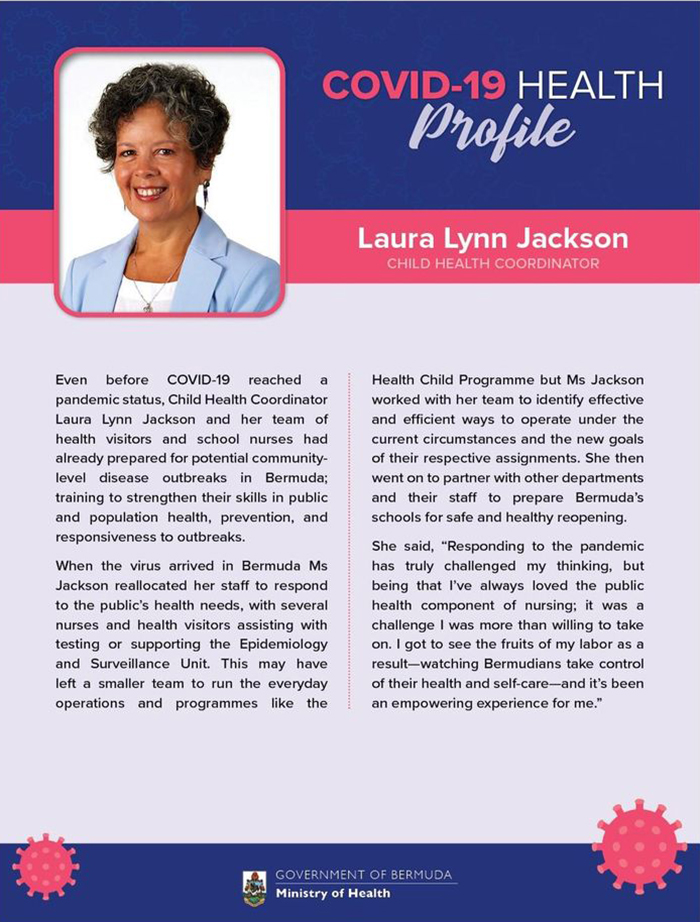 As the island and world deals with the Covid-19 pandemic, we are doing our best to provide timely and accurate information, and you can find more information on the links below.
Read More About
Category: All