With the public schools set to re-open soon, the Commissioner of Education provided information on the daily screening process, which consists of four questions and a temperature check, as well as mask wearing.
A poster from the Ministry of Education states, "A message from the Commissioner of Education to public school students and parents. Students and staff will be screened daily. The screening consists of four questions and a temperature check.
"We need to know the answers to these questions every day:
Do you have any respiratory symptoms such as a cough or fever,
Have you or anyone in your household been in contact with anyone who has COVID19,
Is anyone in your household sick or being quarantined due to COVID-/9,
Have you, or anyone in your household traveled in the last 14 days?
"Anyone who is unwell, has an unexplained high temperature, or who answers 'yes' to any of these questions will not enter the school that day.
"Thank you for helping us reopen our schools responsibly and safely!"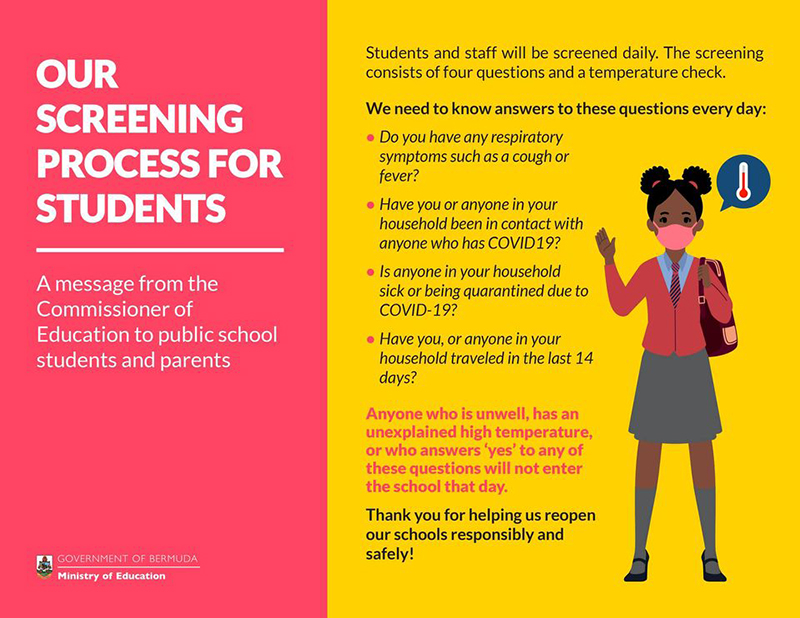 The Commissioner of Education also provided information about mask wearing procedures.
The poster says, "For most of us, wearing a mask or face covering is new and we're not used to the feeling. If it is a bit stuffy, you are probably wearing it right! And the most important thing is not to fidget with the mask/face covering.
"Preschoolers and Primary Students need to wear them as they enter the school until they get to the classroom and when leaving school.
"Middle or Senior Students need to wear your mask throughout the school day. Sometimes you will be able to take it off like when you are more than six feet away from the nearest person.
"All Students: Remember, others wear a mask to protect you so you should wear a mask to protect others.
"And remember, keep washing your hands – after your mask comes off, after using the bathroom, before and after eating and after recess."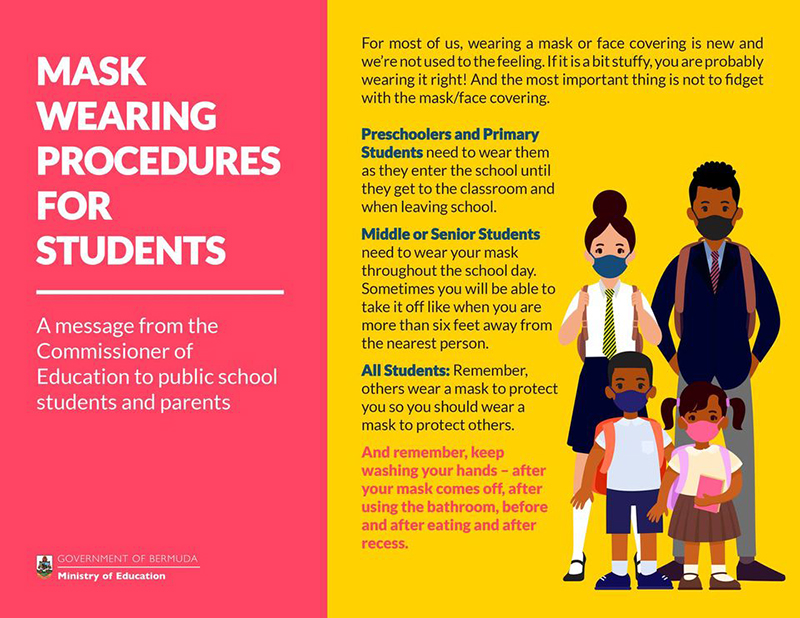 As the island and world deals with the Covid-19 pandemic, we are doing our best to provide timely and accurate information, and you can find more information on the links below.
Read More About