Royal Bermuda Regiment soldiers were yesterday out on the roads as part of the recovery effort for Hurricane Paulette.
The soldiers fanned out across the island to assess damage, clear roads, and ensure other emergency service and utility workers could travel freely.
Captain Kenji Bean, the officer in charge of land operations, said three Immediate Response Teams had deployed at 3pm after reconnaissance patrols had assessed the damage.
He added: "All the IRTs have made it out. For the most part, the roads are serviceable, but they have assisted the Parks Department with the blockage near Lindo's on Middle Road in Warwick."
RBR troops also pitched in to clear obstructions on South Road from Paget to Smith's, Middle Road in Devonshire from Montpelier to Orange Valley, as well as around the Tynes Bay incinerator on North Shore Road.
Soldiers clear loose vegetation and water from a roadway.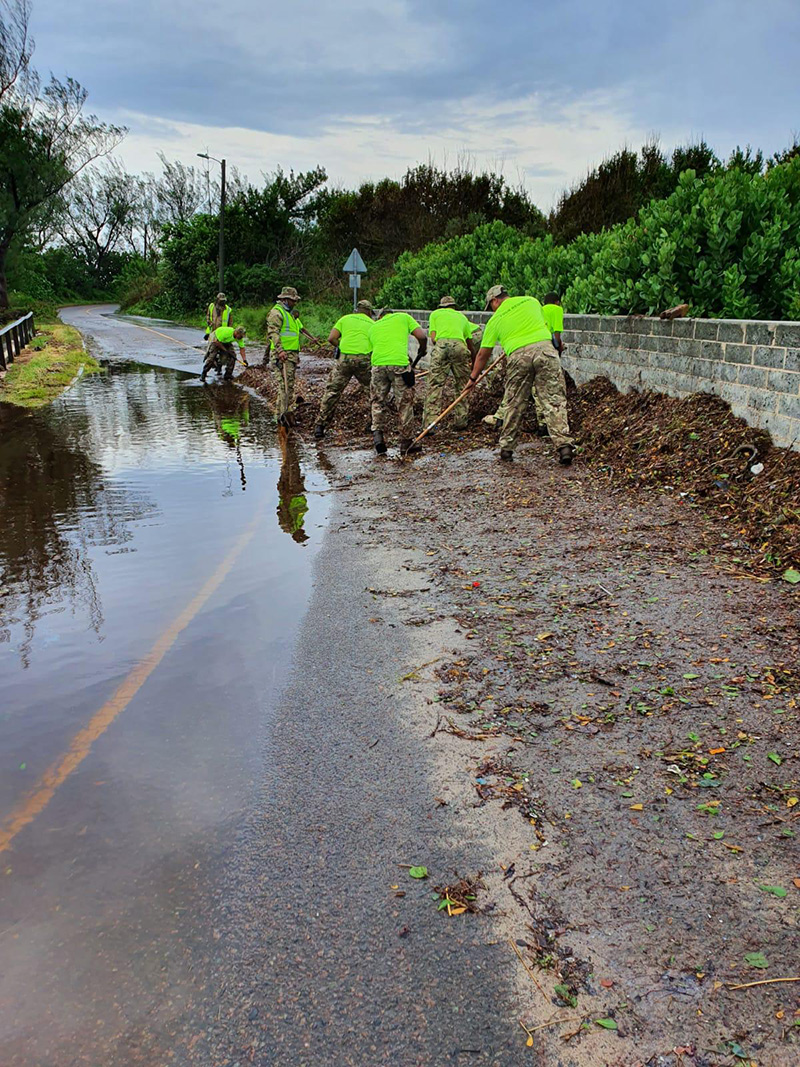 Captain Bean said: "The reconnaissance teams don't appear to be reporting too much significant damage — it seems to be fewer trees and more utility poles that are down."
He added the RBR Coastguard had crews based at Warwick Camp and the East end who would carry out checks on boats by road until it was ruled safe to put to sea.
There are 80 soldiers embodied for the storm, including three IRTs, one based east of the Causeway in St George's and two at Warwick Camp to cover the central and western parishes.
Captain Bean said: "It's gone like clockwork — so far, so good.
RBR soldiers clear debris from Middle Road in Devonshire.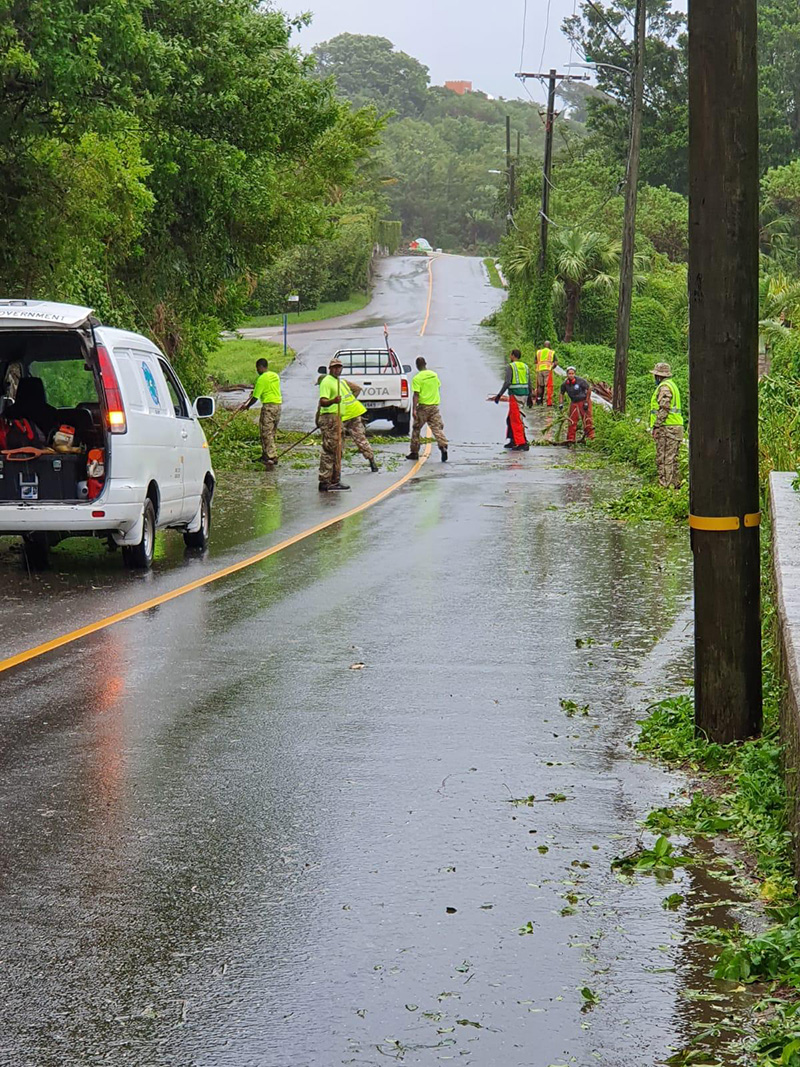 "Our soldiers have a pedigree in disaster recovery and we are confident that we will carry out our duties in making sure the roads are safe for others to travel."
He added there appeared to be "very little" damage in the East End, except for Clearwater Road in St David's, which was covered by rocks and impassable.
Logistics specialists are operating around the clock at Warwick Camp to support the soldiers on the ground and the service's Operations Room, which will coordinate efforts over the hurricane recovery.
Lieutenant Colonel Ben Beasley, the RBR's Commanding Officer, said: "Our soldiers came in on time and they have the right equipment and the right attitude.
RBR troops clear fallen trees with a chainsaw in the wake of Hurricane Paulette.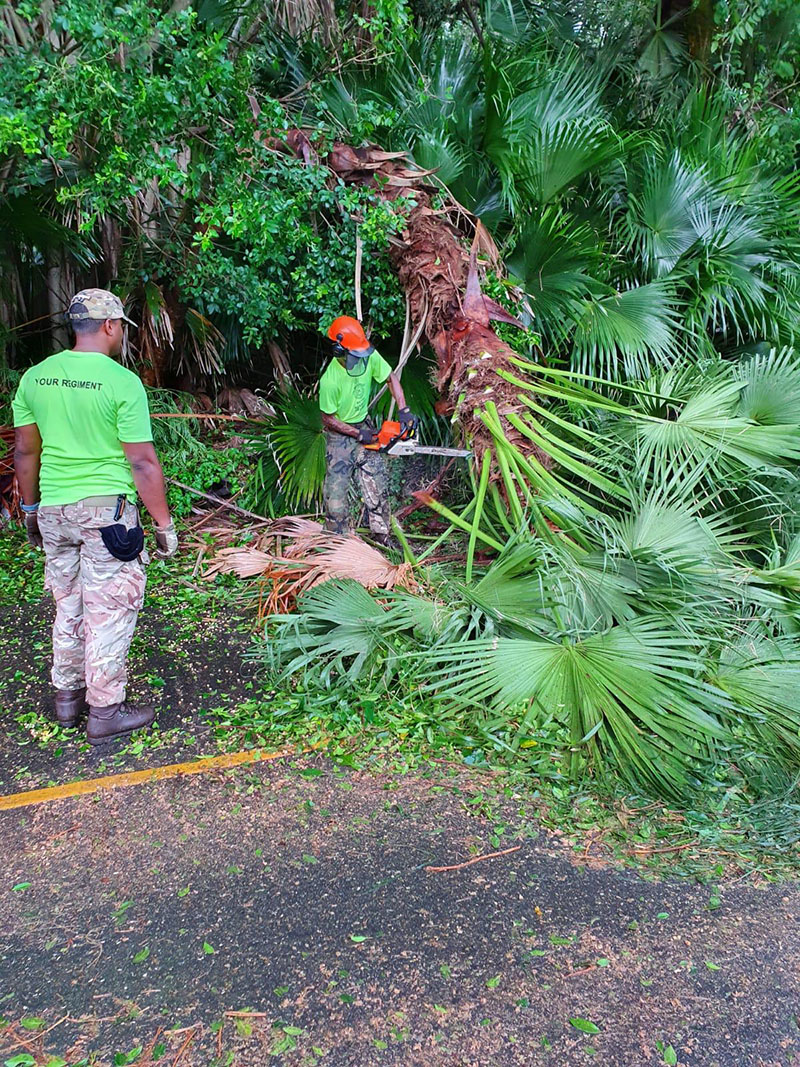 "The commanders are working in step with the Emergency Measures Organisation and the Ministry of National Security to ensure we have a unified national approach."
He added: "When the call came in that we were entering post hurricane winds, we were ready to go in 15 minutes and out the gate checking roads to make sure emergency services could get through and the clearance teams went out shortly afterwards."
Colonel Beasley said the troops were expected to be back on the job at first light this morning "working with their dedicated Parks Department and Works & Engineering colleagues".
A soldier chops up branches as part of the RBR's road clearing work.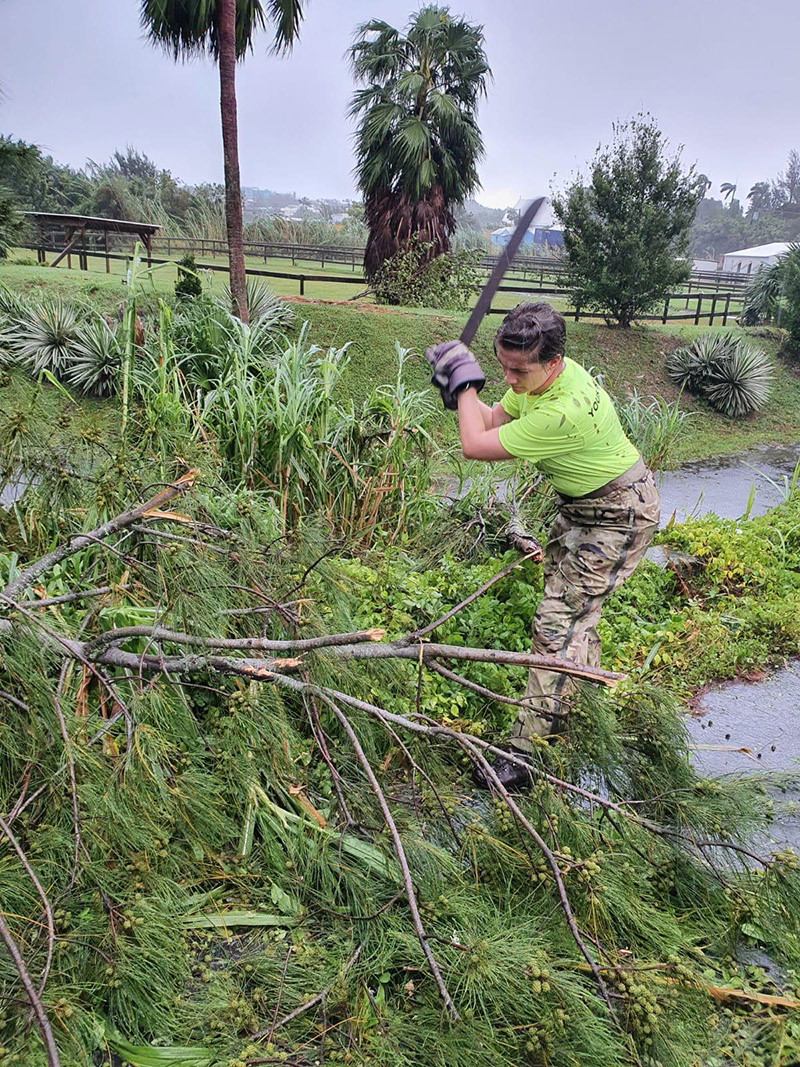 He added: "The Regiment continues throughout 2020 to show what a valuable and adaptable resource it is for securing Bermuda's interests."
Colonel Beasley said: "We are fortunate that our country continues to prepare for hurricanes and we have certainly learnt lessons from underestimating what a Tropical Storm to a Category 2 hurricane can do.
"We are also fortunate that the damage from Paulette was not as bad as it could have been."
He said the RBR was grateful to the families who "went through another hurricane without the soldier in their life at home" and to "employers who do without valuable staff for the greater national interest".
You can view our live updates on Paulette here, and all our coverage of Paulette here.

Read More About