Premier David Burt, the Minister responsible for Tourism, announced that MP Wayne Caines will be the next Chair of the Bermuda Tourism Authority [BTA] Board of Directors and MP Kim Swan will also join the BTA Board.
"I am pleased that The Hon. Wayne Michael Caines has accepted my invitation to become the Chairman of the Bermuda Tourism Authority," said Premier Burt.
"Wayne has a strong academic background with professional qualifications in history and law; he has served as Junior Minister of Tourism and is a respected former CEO of Digicel Bermuda and SENIAC Consulting. Wayne is also at home with corporate governance and brings to this role significant boardroom experience. He is a proven, energetic and committed leader."
Premier Burt commended the former BTA Board Chair: "Since 2017, Bermuda and the BTA have been fortunate to enjoy the selfless service of an outstanding board chairman in Paul Telford.
"Paul is a consummate professional whose expertise in his chosen field has seen him go from strength to strength. I wish to thank him for these three years of service and as he continues his work in Turks & Caicos Islands, my hope is that we will one day soon have a hotel in Bermuda that will coax him to once again return home."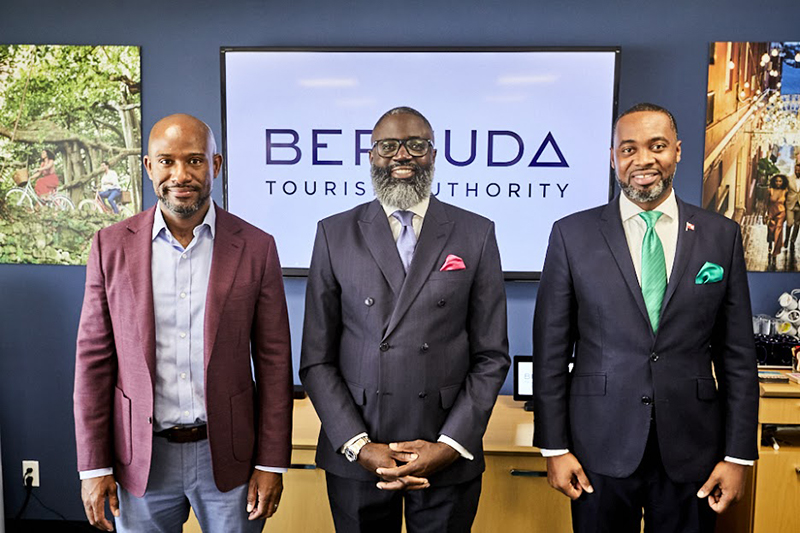 "The seismic shift in global travel outlook will usher in an era of change in the definition of tourism norms. Before Covid, Bermuda may have slipped in under the radar screen, cautiously measuring tourism success against bad years and reinventing statistics to present a picture of niche successes." said Premier Burt.
"That tide has gone out and the world is now exposed. As a destination we must be determined not to replicate those lean years but to create a revival of our tourism economy that is led by presenting a relevant, vibrant, value for money product that can again be the envy of the world and provide careers for our people."
The announcement said, "MP Caines, the representative for Devonshire North West, has served as Minister of National Security July 2017 to July 2020, and is a former CEO of Digicel Bermuda. He sits on several boards, including Stevedoring Services and ILS Capital, and is a fraternity member of Alpha Phi Alpha Inc.
"In former government roles, he has served as Chief of Staff to the Premier and as a Senator, with responsibilities as the Junior Minister of Tourism, Transport, Environment and Sport. He is a graduate of the University of Kent School of Law and the Royal Military Academy Sandhurst.
"Former Board Chair, Paul Telford, began his career in Bermuda's hospitality industry as a teenage busboy and has worked on the island and overseas, latterly serving as Managing Director of Rosewood Tucker's Point Hotel & Spa (now Rosewood Bermuda). In 2019, he was named General Manager of The Shore Club Turks & Caicos.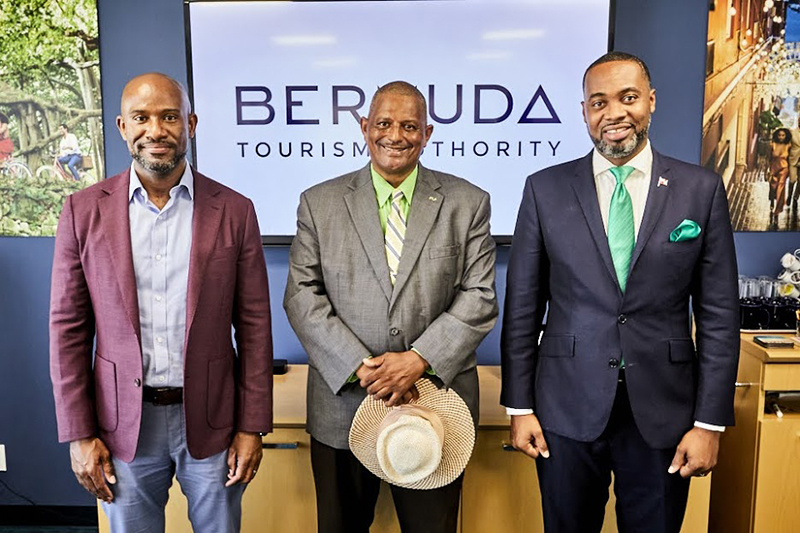 "MP Kim Swan has served on numerous Government boards and Parliamentary committees, including as former Chairman of the Joint Select Committee on the events of December 2, 2016; former Chairman of the Road Safety Council; and former member of the Police Complaints Authority, Immigration Board, Charity Commission and the St. George's Golf Course Advisory Committee.
"As a member of the Bermuda branch of the Commonwealth Parliamentary Association (CPA), he has represented Bermuda at several conferences in Bermuda, the Caribbean and Tanzania, including being a presenter in Uganda on the Benchmarks of the CPA.
"He is a professional golfer by trade and holds the distinction of being the first Bermudian to compete as a member on the PGA European Golf "Tour. As a collegiate golfer, Kim represented Troy State University and won two NCAA collegiate golf championships."
"On behalf of the BTA, I wish to sincerely thank Paul for his dedicated service as our Board Chair over the past three years," said BTA Deputy Chair Stephen Todd. "His tenure has helped shape the organisation's strategic focus and added value to what we've been able to accomplish for the overall betterment of the hospitality and hotel industry.
"We now welcome Wayne to this critical role; his leadership experience is an asset as we collectively tackle global challenges to re-start the hospitality sector and continue advancing the National Tourism Plan. We also welcome Kim, who has been a longtime advocate for Bermuda tourism and brings a wealth of insight."

Read More About