The Economic Development Department will be hosting the 2020 Tech Education Summit virtually on October 13th.
A government spokesperson said, "The Economic Development Department is pleased to announce the 2020 Tech Education Summit. This is the second annual event and this year it will take place virtually on 13 October as a part of Tech Summit 2020.
"The overall theme of 2020 Tech Summit, which runs from 14-16 October, is Digital Transformation. The Education Summit's theme is Inspiring Future Innovators. The goal is to encourage Bermuda's young people, adult and professional learners to engage in technology and learn about the many opportunities it affords them from startups and coding to teaching tools.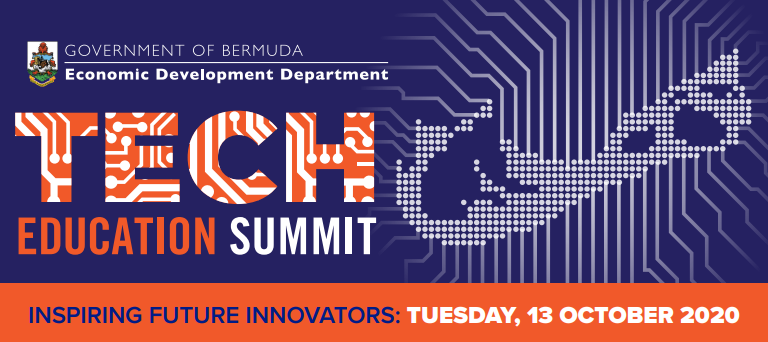 "The 2020 Tech Education Summit is free and provides a unique opportunity for everyone, locally and overseas, people of all ages, as well as adults looking for a career change or seeking to learn more about Bermuda's new technology industry. Everyone is encouraged to take advantage of this opportunity to upgrade their knowledge and skills.
"Along with the stellar line-up of local and overseas speakers presenting on various education topics, Bermuda is honored to welcome Keynote Speaker and tech guru, Chamath Palihapittiya. Mr. Palihapittiya is the founder and CEO of Social Capital, an organization focused on advancing humanity by investing in entrepreneurs who seek to improve the lives of the people around them. His extensive resume includes serving as an early senior executive at Facebook, joining the company in 2007 and leaving in 2011. Mr. Palihapittiya is a minority stakeholder and board member of the Golden State Warriors.
"Premier, the Hon. E. David Burt, JP, MP will open the Tech Education Summit at 8:30 am. The presenters include Bermuda's own Kimberlee Tankard [Brain Hub], Kayla Bolden [WizKid Coding], Shakeem Albouy [Doorstep Solutions], Adrian Lodge [Bermuda Island Games], Jahde Eve [Code 441], Lisa Douglas [Bermuda Blockchain Association], Chloe Barton and Zara Cardell [Connectech], Lisa Stevens [Mount Saint Agnes], Sean Reel and Laura Lyons [Ignite Bermuda], Jeane Nikolai [Department of Energy & Telecommunications], and Dr. Desiree Spriggs [Helix Labs]. Overseas presenters include: Sean Stapley [Penrose], Ed Mason and Bill Rebock [Curve Reality], Jeff Pulver [Blockchain Token], Stan Stalnaker [Hub Culture], Maxim Jago [Maxim Ltd], Michelle Renee [In4mative Services, Inc.], Daniel Gunsberg [HXRO Games] and Amilcar Chavarria [FinTech School] and more.
"This is a free event. All sessions will be available for viewing until Friday, 23 October. After that the presentations will be available at Fintech.bm. For more information and to register for the virtual 2020 Tech Education Summit, click here."
The full 2020 Virtual Tech Education Summit agenda follows below [PDF here]:

Read More About
Category: All, Business, News, technology