The Bermuda Economic Development Corporation [BEDC] is gearing up for the 2020 Global Entrepreneurship Week [GEW] celebrations this month.
A spokesperson said, "The Bermuda Economic Development Corporation [BEDC] in partnership with the Economic Development Department, and Youth Entrepreneurship Initiative are gearing up for the 2020 Global Entrepreneurship Week [GEW] celebrations which will be taking place during the month of November.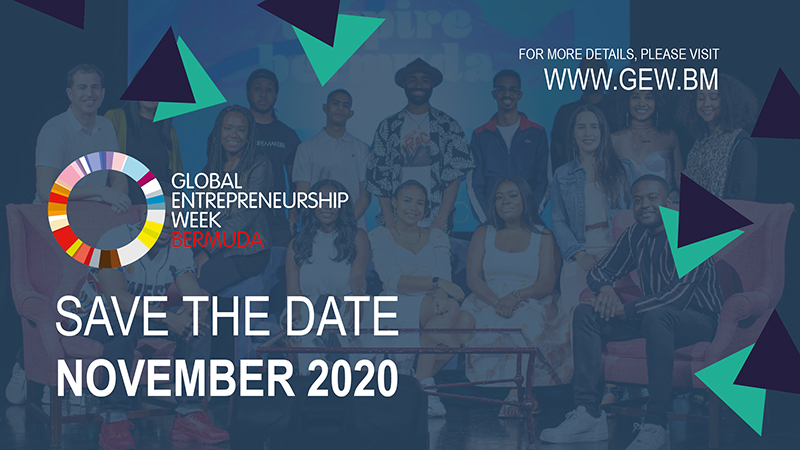 "Launched in 2008, GEW is celebrated worldwide from November 16th – 22nd. It has grown to include over 170 host countries, 50,000 partner organizations with millions of activities planned throughout the world.
"Bermuda has participated in GEW since the start and has been recognized globally at the Global Entrepreneurship Congress for hosting the most events per capita – and this year there will be plenty on offer to get involved in. The celebrations of entrepreneurship will kick off on Monday, November 2nd with a public overview of GEW to be broadcasted on GEW social media and web outlets.
"On Saturday, November 14th, the BEDC Business Awards will take place; to celebrate the achievements, growth & resilience of Bermuda's entrepreneurs. This event will feature local businesses that have been nominated by the public in recognition of their success within the last year. We will also celebrate those entrepreneurs that have dedicated themselves to personal growth & learning by completing BEDC's educational courses.
"On Tuesday, November 17th, new entrepreneurs are invited to the Festival of Entrepreneurship. This year we will be celebrating entrepreneurs across Bermuda as we want to encourage and celebrate start-ups that have been resilient and committed to creating new or improved products and services for their community.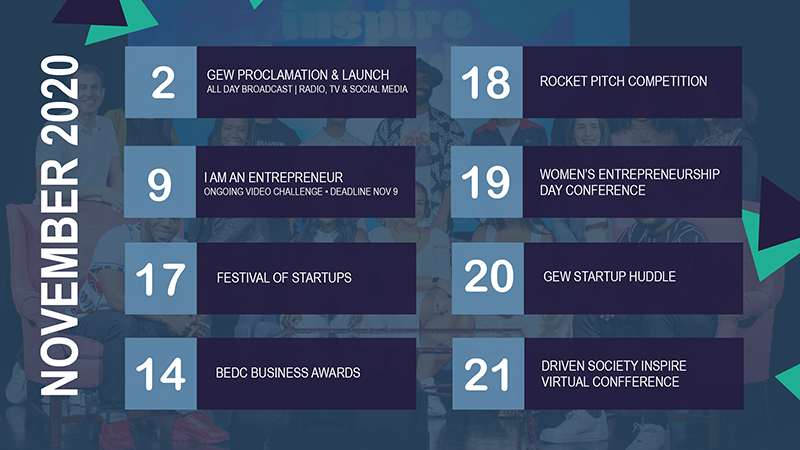 "Other highlights of the month's events include the Rocket Pitch Competition. Always an exciting time with entrepreneurs from six categories this year, including Pitch Pink, Pitch Town, Pitch Tech, Pitch Green, Youth Pitch, and now Co-op Pitch, battling out to see whose idea will come out on top and take home the $5,000 cash award and a start-up package of services to help them launch their business. Applications are being accepted for the competition until November 2nd, so don't miss out on the chance to win start-up capital for your business.
"In celebration of Women's Entrepreneurship Day, the Women's Entrepreneurship Day Conference will be a day-long event featuring great Keynote speakers, along with an esteemed panel of local female entrepreneurs. This year's theme is "Choose Women" and it will certainly be an event that will inspire, empower and elevate Bermuda's female Entrepreneurs.
"New on the GEW calendar, BEDC will host a Startup Huddle on Friday, November 20th. Startup Huddle is a powerful tool for community building, helping one entrepreneur at a time while engaging the community for feedback. The format is simple: one to two founders will give a six-minute presentation about their company to a diverse audience from their local community, followed by a 20-minute question and answer session where the community provides ideas, connections and feedback for the entrepreneur.
"This year, our partnership with Driven Society continues to bring some of the hottest influencers from the US to Bermuda. Join us for the Inspire Bermuda Virtual Conference on Saturday, November 21st. The virtual experience will include a Vendor and Art Market showcasing top Bermuda talent as well as a daylong of great speakers both local and international."
Jamillah Lodge, Director of Communication & Development for BEDC and GEW Project Manager, said, "We are so excited this year to have so many opportunities lined up to showcase the entrepreneurial spirt of Bermudians. We have seen many entrepreneurs succeed and bring their vision to life, and we want to continue to inspire people to make their business ideas a reality and celebrate those that have already started on their journey. We encourage anyone interested in starting their own business, or those who just want to support small businesses and entrepreneurs, to come out and take part in the events put on during the month of November, and beyond."
Below is a full list of the events and partner events taking place during GEW:
| | | |
| --- | --- | --- |
| Event | Date | Delivery |
| GEW Bermuda Promo/Proclamation [Video] | Nov 2 | Video/Online |
| BEDC Business Awards | Nov 14 | Virtual |
| Festival Of Entrepreneurship – Celebrating Startups | Nov 17 | In Person/Invite Only |
| Pitch Day: Rocket Pitch Finals + Youth Pitch Finals | Nov 18 | In Person/Live Stream At Hamilton Princess |
| Women Entrepreneurship Day Conference/ BGV Pitch Competition | Nov 19 | Virtual |
| StartUp Huddle | Nov 20 | Virtual Mentor |
| Inspire Conference/Driven Society | Nov 21 | Virtual |
| I am An Entrepreneur – Video Competition | Ongoing | Virtual |
Partner Events
Date Delivery
| | | |
| --- | --- | --- |
| Event | Date | Delivery |
| Personal Information Protection Act 2016 [PIPA] | Nov 4 | Virtual |
| BPSU Women's Committee: Bridging the Generational Gap in the Workplace | Nov 4 | Virtual |
| Celebrate Success, Ignite | Nov 6 | In Person/Invite Only |
| Women's Empowerment Summit, Blackbook Promotions | Nov 14 | Virtual |
| The Social Dilemma Discussion | Nov 23 | Virtual |
For more information and to purchase tickets for events, visit www.gew.bm, email info@bedc.bm or call 292-5570.
Read More About