[Opinion column written by MP Chris Famous]
For decades there has been a false narrative that elections in the Caribbean region were fraught with corruption, tainted votes and invalid outcomes.
So persistent was this narrative, that many of Caribbean elections have had to have outside observers from the United Kingdom, European Union and or some other entity.
Yet, through it all, our election results have always proven to be fair and accurate.
So, while the world is focused on the events of the presidential election in the United States of America, there have been several general elections in the Caribbean region over the last few months.
Today, we will have a brief look at some of them.
Regional Elections
St. Kitts and Nevis
General elections were held in Saint Kitts and Nevis on Friday 5th June 2020. The incumbent coalition, Team Unity consisting of PAM, CCM and PLP, led by Prime Minister Dr Timothy Harris, won nine out of the eleven seats with the St.Kitts and Nevis Labour Party winning only 2 seats.
Total registered voters: 48,076
Total votes cast: 27,963
Voter turnout: 58.16
Dominican Republic
General elections were held in the Dominican Republic on 5th July 2020 to elect a president, vice-president, and 32 senators.
The Modern Revolutionary Party [RPM], led by Luis Abinader, won both the Presidential race with over 50 per cent of the vote and the Senate race, with a total of 17 seats.
Total registered voters: 7,529,932
Total votes cast: 4,003,159
Voter turnout: 55 per cent
Anguilla
General elections were held in Anguilla on 29th June 2020.
The 13-member House of Assembly consists of seven members elected in single-member constituencies by first-past-the-post voting, four at-large members elected from the entire island.
The then main opposition Anguilla Progressive Movement [APM], led by Dr. Ellis Webster, won the general election with seven of the 11 seats. The Anguilla United Front [AUF's] won four seats.
Total eligible voters: 11,950
Trinidad and Tobago
The 2020 Trinidad and Tobago general election was held on Monday, 10th August 2020.
The incumbent People's National Movement [PNM], led by incumbent Prime Minister Keith Rowley, won 22 seats. The United National Congress [UNC], led by Opposition Leader Kamla Persad-Bissessar who won only 19 seats.
Total eligible voters: 1,134,135
Total votes cast: 658,297
Voter turnout: 58.04 per cent.
Jamaica
General elections were held in Jamaica on Thursday, 3rd September 2020 to elect 63 members of Parliament.
The incumbent Jamaica Labour Party, led by Prime Minister Andrew Holness received 57% of the vote and went from 33 seats to 49 seats; the People's National Party went from 30 seats and ended up with 14 seats.
Total eligible voters: 1,913,410
Total votes cast: 715,511
Voter turnout: 38 per cent
Bermuda
General election was held on October 1st 2020.
The incumbent Progressive Labour Party [PLP], led by Premier David Burt went up against the Opposition party the One Bermuda Alliance [OBA] and new political entity the Freedom Democratic Movement [FDM].
Three seats held by the PLP were uncontested.
The PLP captured a total of 30 seats, the OBA 6 seats, the FDM 0.
Total registered voters: 46,311
Total votes: 25,763
Voter turnout: 55 per cent
Sint Eustatius
Rechelline Leerdam is the leader of the Progressive Labour Party in St. Eustatius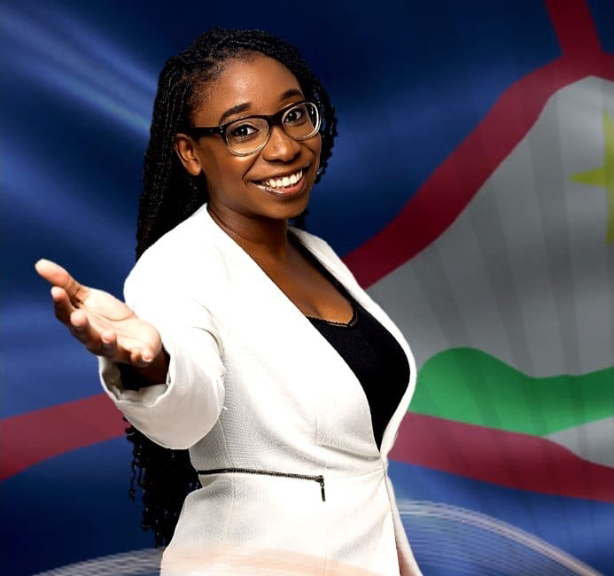 Island Council elections were held on the Dutch Caribbean island of Sint Eustatius on 21 October 2020.
The Progressive Labour Party [PLP], led by Rechelline Leerdem, received a total of 815 votes or 51 per cent. The Democratic Party [DP] received a total of 647 votes or 41 per cent. The United People's Coalition [UPC] received 124 votes or 8 per cent.
Total registered voters: 2102
Total votes cast: 1586
Voter turnout: 77 per cent
Upcoming Elections
St Vincent and Grenadines
General elections are to be held in Saint Vincent and the Grenadines on the 5th November 2020.
Prime Minister Dr Ralph Gonsalves is attempting to win his 5th General Election leading the Unity Labour Party against the Opposition New Democratic Party [NDP]. There are 15 seats to be contested.
Belize
General elections will be held in Belize on 11 November 2020. There are a total of 31 seats to be contested.
The incumbent United Democratic party [UDP], led by Patrick Faber. The official Opposition party is the People's United Party [PUP], led by John Briceno.
Civil Elections
At the time of writing, there are storefronts being boarded up with plywood in the major metropolitan cities of Washington DC and New York City.
Is this because a hurricane is expected?
No, something more insidious than an act of nature.
There is an expectation of mass protests and or violence if the election results show that Donald Trump had lost the election.
Yes, in the great land of America there are factions who promised to take up arms if the popular vote goes against their desires.
In every general election carried out in the Caribbean region, the results have been accepted, minus mass civil unrest.
So in conclusion, let's ask ourselves this one singular question: who has the most civil elections?
- Chris Famous

20 Most Recent Opinion Columns

Opinion columns reflect the views of the writer, and not those of Bernews Ltd. To submit an Opin-ion Column/Letter to the Editor, please email info@bernews.com. Bernews welcomes submissions, and while there are no length restrictions, all columns must be signed by the writer's real name.
-
Read More About