Six students were recently selected as Head Prefects at the Berkeley Institute; Andreaz Glasgow [Head Boy], Daria Symonds [Head Girl], Seth Hardtman [Deputy Head Boy], Gabrielle Romaine [Deputy Head Girl], Zayne Sinclair [Deputy Head Boy], and Raina deFontes [Deputy Head Girl].
"Through a rigorous application process, these six students demonstrated the most potential and best emulated what a model Berkeley student is and should be," a spokesperson said.
"They each brought to the table something special and unique and they all had the drive to 'keep the end in view' [Respice Finem] despite challenges due to Covid-19.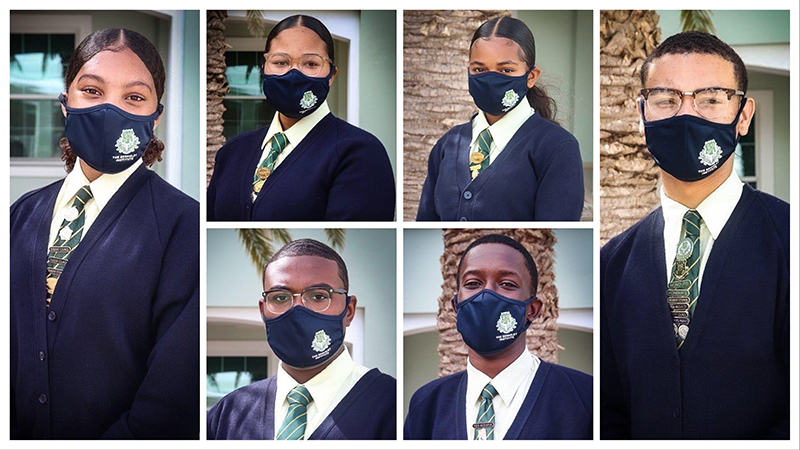 "After months of waiting, discussions, and interviews, these six students were honored via a whole school Zoom assembly on the morning of October 15th."
Chaired by Deputy Principal Mr. Quincy Paynter, the prefect selection committee was faced with challenges this year.
Mr. Paynter said, "We were a bit worried about how we where going to go about selecting prefects this year. We usually have a full school year before to handle all the tedious tasks and get time to observe all the candidates. Luckily, we had a great administrative team and committee members who are dedicated to producing nothing but the best."
Head Boy Andreaz Glasgow said, "I am elated to have been given this position. I have worked hard for it for the past four years during my tenure at The Berkeley Institute.
"I hope to continue to lead by example and help my peers reach their fullest potential in and out of school. I want to motivate and positively influence my lower classmen and those in my cohort to become the very best versions of themselves.
"I am excited to take on this role feet first and gung ho like our founding fathers did when they formed this institution. Despite the challenges of COVID-19, I look forward to bettering my school, community, and peers by spreading the Berkeley mission, as it's not about how you start, but about how you finish."
The students were given their first roles as Head Prefects the following week at the annual Founders Day celebration. The event was held on October 23, 2020 and it commemorated 123 years since the school opened its doors.
Head Girl Daria Symonds said, "I am honored to have been given the role of Head Girl of The Berkeley Institute. This role is a responsibility I take seriously.
"I realize that to whom much is given, much is expected. Therefore, every day I commit myself to upholding the values of The Berkeley Institute so that I can lead by example. Being in a leadership role enables me to advocate for my peers and improve school life.
"I am also able to make contributions and engage in discussions with administration and even our Board of Governors. My role as Head Girl is preparing me for the next phase of my educational journey and I am truly grateful to have this opportunity."
The spokesperson said, "Despite the challenges of COVID-19, the students are making the best of their senior year and time at The Berkeley Institute. The staff, students, faculty, parents, and alumni congratulate these six students on their accomplishments and look forward to seeing more from them."

Read More About