The Bermuda National Athletics Association [BNAA] recently presented the family of Clevonte Lodge-Bean with the first official Carifta medal and bib number of the 2020-2021 games.
Donna Raynor, President of the BNAA, said, "On behalf of the Bermuda National Athletics Association and Carifta 2020 Bermuda Committee, partners, and family, we are honoured to present Clevonte Lodge-Bean with the first official medal and bib number of the 2020-2021 Games.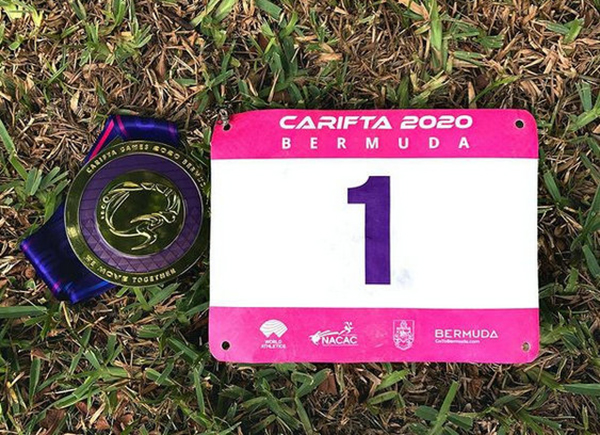 "As Lodge-Bean is laid to rest, his family accepted this on his behalf."
"Lodge-Bean was a Pacers Track Club athlete under the guidance of Norbert Simons. Clevonte traveled with the Pacers Track Club to several overseas track meets and consistently performed well at these events.
"He had become one of our most outstanding junior athletes. Clevonte qualified for the 2018 Youth Olympic Games in Buenos Aires, but unfortunately was not able to complete the race as he pulled his hamstring. In that same year, he was awarded the Male Athlete of the Year by the Pacers Track Club.
"In 2019, he was awarded one of the Government Junior Achievement Awards as an acknowledgment of his outstanding performances throughout the previous track and field season.
"He represented Bermuda in 2017, 2018, and 2019 at the Carifta Games in the 200m, 400m, 4X100m, and 4X400m relays, making the finals on several occasions. Clevonte was selected for the 2020 Carifta Games team in the Males U20 category for the 200m, 400m, 4x100m, and 4x400m.
"This event would have been held in Bermuda in front of his home crowd. We are confident that he would have put on a performance as he found added motivation through competition and always rose to the occasion and as we say, he showed out for a crowd."

Read More About