[Written by Dale Butler]
Shakespeare: Twelfth Night, Act 3; Scene 2: Maria: "If you desire the spleen, and will laugh yourselves into stitches, follow me."
The Loft on the third floor of The Emporium Building at 69 Front Street was the ideal venue for a night of adult comedy from veterans and a newcomer who are mischievous just like the Musketeers. The mood was set with music from Earth, Wind & Fire as some of the prettiest women in Bermuda were ushered in, dressed to impress.
History will record that Bermudian entertainers were polite and friendly while enforcing the Covid protocols at the door and throughout the night. But most importantly, they took their craft and the audience seriously, and ensured we left satisfied, although I was holding my side, not only from the jokes made about me getting two votes when I ran for the Premiership of Bermuda, but they had a ball painting laughter everywhere.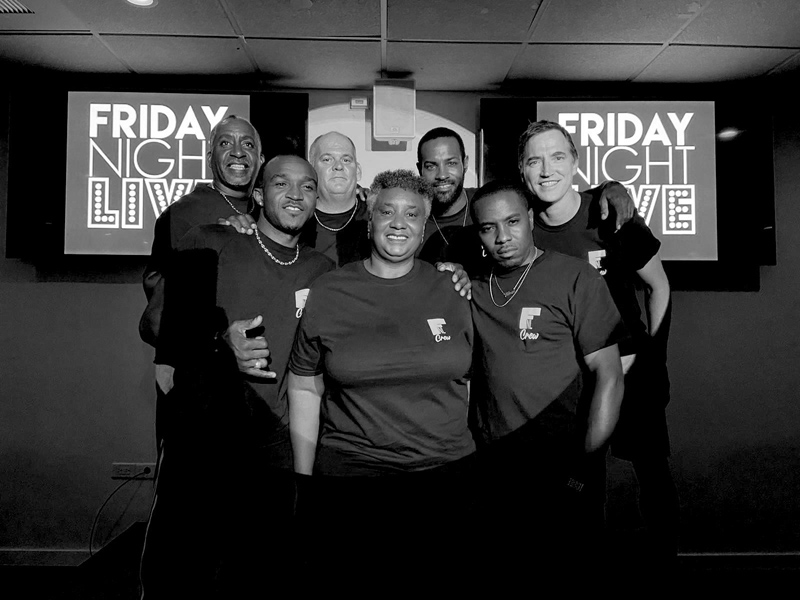 The lineup was extraordinary and in the right order. The key to their success was their level of confidence, which indicated they knew their comedic voice and had rehearsed their routines so that when they hit the stage they immediately had you laughing. Given 10 minutes each, after a prompt 9:30 p.m. start with comedian Gina Love setting the pace as MC and comedian, they punch well above their weight.
Jah, the first up and local favourite, excited Gina Love, who stitched a seamless night together with ease. Jah's jokes about politics, churches, Covid, and unemployment had us laughing out loud. No rust here.
When I first saw Jonathan Young perform a few years ago, I felt he was headed for big things. His repertoire is perfect and original.
When he stated the use of the word "F" is the 27th letter in the Bermuda alphabet you know he is very aware of what is happening around us. Dealing with themes like Bermudians in Vermont and Trump and Snoopy, he built on Jah's foundation as he held everyone in the palm of his hand. Had Gina not stuck to the clock, he would have held command all night.
King Somner was brave to step on stage with such an experienced crew, but if you hope to master your craft, a live audience is the only way to be counted. He took a while to warm the audience and just when the pot was boiling with laughter, his time was up. He has a promising career and by the end of the season I predict he will be able to sit with the best of them.
I taught Bootsie, who was a popular and charismatic high school student. He still has his feet on the ground, even though he has a lengthy well-earned local and international resume. Bootsie is a very humble man who hasn't allowed success go to his head.
As soon as he gets on the stage bright-eyed and flashes that smile, he immediately lets you know he has on an invisible crown and you had better take a deep breath because he is going to make you laugh non-stop. From using people in the audience to reminding us about Charlie Brown, Lassie, and old karate movies, he is a master, and you could easily appreciate his 34 years of success from Def Jam to cruise ships.
He is definitely a hard act to follow.
After a few jokes from Gina Love, who continued to keep the pace flowing, Nadanja stepped up with confidence, not fearing a thing. I swear he is so creative he could just stand there and not utter a word and make you laugh. Once you know his new favourite word, this energetic island wide multi-talented actor, DJ, and much more, sent the audience expectations out of the window as we laughed about Christmas gifts, taxis, older women, Spring Garden, and my favourite street pharmacist.
By now we had enjoyed a bellyful of laughter and there really wasn't much more room for anybody else. But Eddie G did not have to try hard to make us laugh even though, for the past 10 years, he had always opened a show. He put the lid on it, ensuring that the world would broadcast that he was also one of the master comedians.
It turned out that he was the icing on the cake, leaving everyone wanting everyone to return for another stint. But this was not to be.
The event was closed with brief remarks from Selena 'Va Va' Fields, President of the Bermuda Entertainment Union. Bar service by Nafisah Rochester and Caitlin Peniston was superb. Folks did not leave at the end as the comedians came and greeted them, which I felt was a nice touch because it was as if they had been on a cloud and had returned to earth.
While laughing uncontrollably – as Shakespeare had written, "into stitches," we pursued them all night. Congratulations Friday Night Live!, You are big and deserve the sellouts you've been consistently receiving.
Next show at The Loft on November 27 at 9:30 p.m.
- Dale Butler originated "The Bermuda Comedy Masters' Festival" – "Fourways Inn – One Way Out" with senior comedians called The Onion Pack and does regular reviews of entertainment events for Bernews.
Read More About
Category: All, Entertainment, News