Crystal Caesar, Lesley White, Sinae' Smith and Carlita Lodge will take part in a virtual fireside chat, which aims to "motivate, inspire and celebrate women in leadership," on Sunday, November 8th.
A spokesperson said, "For many people, this year that has proven to be the most challenging that they have faced in their lifetime. As it nears to a close it is critical that there are support systems available for those who need them.
"Those who are in current leadership roles have been pushed into unprecedented territories of leading teams that they are no longer able to see and moving business operations forward whilst they themselves may be experiencing personal turmoil.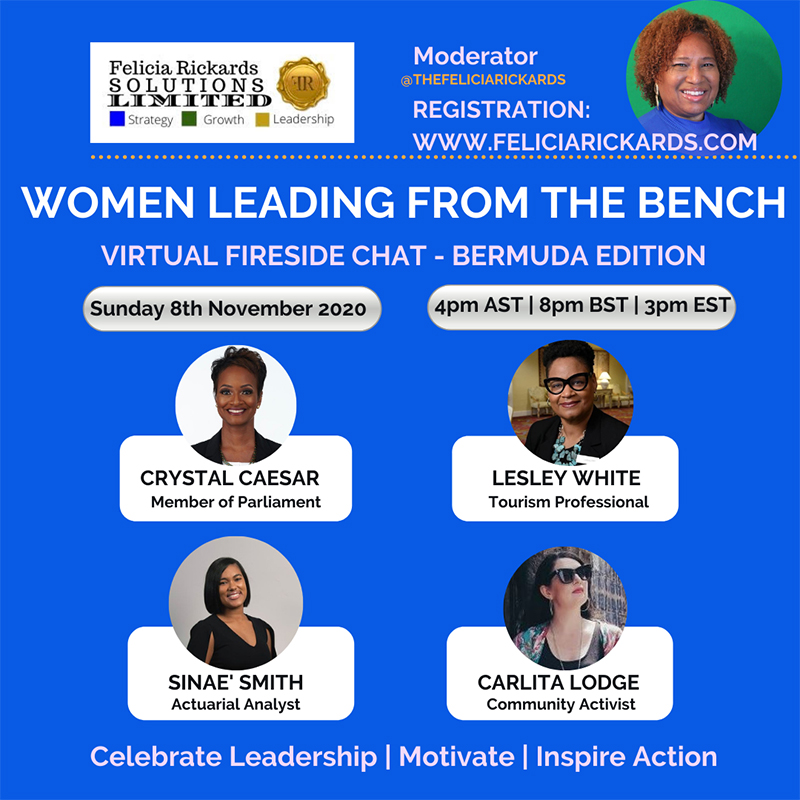 "Not only is it important to support those who are committed to pushing through the uncomfortable process of leading in an uncertain environment, but we need to celebrate emerging leaders who are poised to step up and add strength to their organizations.
"Even more compelling, is that those who need a network or support system, are able to source and participate in one in order to fulfill their own personal needs.
"In recognition of this, a virtual fireside chat aims to motivate, inspire and celebrate women in leadership. The event will be hosted on Sunday, November 8th, 2020 at 4pm AST in on online format.
"The celebratory event will be hosted in a fireside chat format, with attendees encourage to create their own lounge experience. In keeping with the objective of the event, the opening will provide a quick mindset exercise to support the atmosphere of viewing with positive intent.
"Felicia Rickards will be moderating the event which features one-to-one interviews with Crystal Caesar, JP MP, Lesley White, Tourism Professional, Sinae' Smith, Actuarial Analyst, and Carlita Lodge, Community Activist.
"Pre-registration is required. Those interested in attending can use this link: Register Here. All registered participants will receive virtual "goody bags" from the event sponsors."
Read More About