The Association of Bermuda Insurers and Reinsurers [ABIR] announced that international re/insurance industry leaders Aeolus Capital Management, Ariel Re and Fortitude Re will join ABIR for 2021.
"I am pleased to welcome Bermuda international risk transfer leaders Aeolus, Ariel Re and Fortitude Re to ABIR," said Albert Benchimol, President & Chief Executive Officer of AXIS Capital and Chairman of ABIR.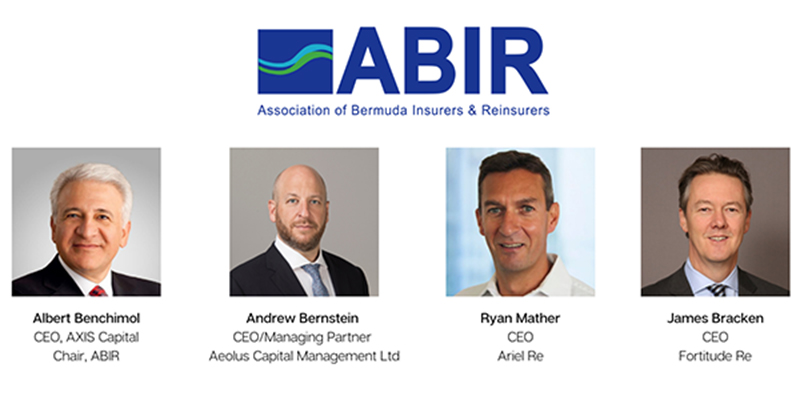 "Through ABIR, Bermuda's leading insurers and reinsurers collectively represent the industry at home and abroad and these leading international companies help build upon the important public policy, advocacy and education work ahead for 2021."
ABIR explained, "Aeolus Capital Management Ltd [Aeolus] manages capital on behalf of investors seeking the superior risk adjusted returns and diversification benefits available from investing the property catastrophe reinsurance and retrocession market. Aeolus is based in Bermuda and its capital providers include some of the most sophisticated investors in the world. Aeolus is led by Chief Executive Officer Andrew Bernstein.
"Ariel Re transacts a broad array of reinsurance business through offices in Bermuda, London and Hong Kong. They are multi-line reinsurers meeting the business needs of a diverse client base. Originally founded in 2005, Ariel Re has a long record of outstanding performance and was recently acquired by Pelican Ventures and J.C. Flowers in November 2020, capitalized for the 2021 year of account. Ariel Re is led by Chief Executive Officer Ryan Mather.
"Fortitude Re is a large, independent multi-line provider of run-off management solutions backed by a consortium of sophisticated, long-term oriented institutional investors led by The Carlyle Group and T&D Insurance Group. Fortitude Re's experience in executing bespoke transactional solutions for legacy Life & Annuity and P&C lines is now available to all leading insurers. Fortitude Re is led by Chief Executive Officer James Bracken."
"The Bermuda re/insurance market capacity, capital and talent are critical to the international challenges of 2021. ABIR is pleased to be joined by these global leaders," said John M. Huff CEO of ABIR.
"Advancing the ABIR value-proposition has never been more important as are member companies offer global, well-regulated capital management tools, protection and peace-of-mind to consumers and businesses in over 150 countries."
Read More About