[Updated] Amendments to the Public Health Covid-19 Emergency Powers — which stated they have an operative date of November 30, 2020 – state that "a person who fails to take all reasonable steps, as required by regulation 3, to maintain appropriate physical distancing by not wearing a mask when one is required commits an offence and is liable on summary conviction to a fine of $500, in respect of a first offence; a fine of $1,000, for a second or subsequent offence."
Update 10.30pm: Minister of Health Kim Wilson mentioned this during this evening's press briefing, saying: "We have amended our health regulations so that it is now an offence to not wear a mask in accordance with the guidelines. A person who fails to wear a mask when one is required commits an offence and is liable on summary conviction to—
(a) a fine of $500, in respect of a first offence;
(b) a fine of $1,000, for a second or subsequent offence."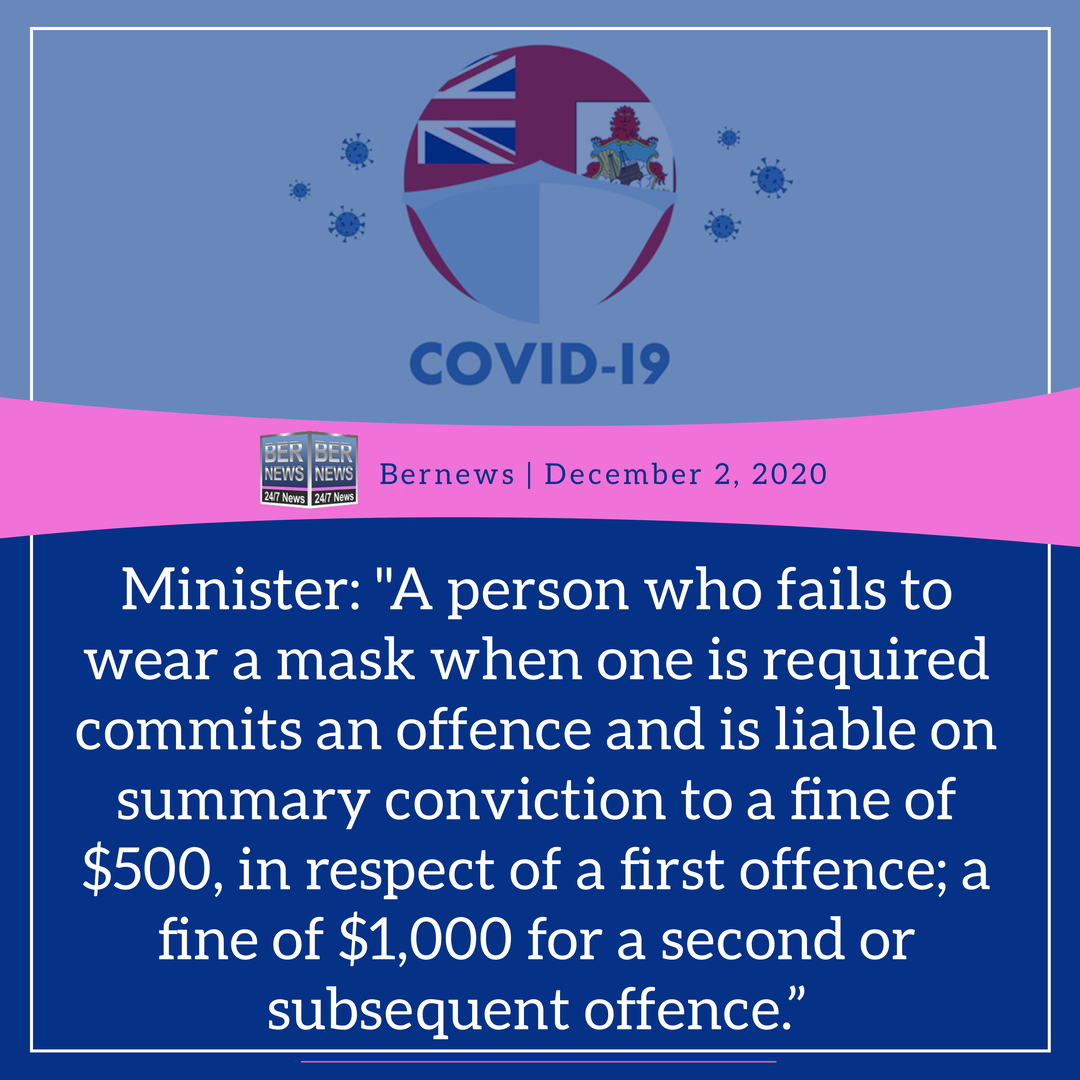 Update Dec 2, 3.50pm: In providing today's test results, the Minister of Health Kim Wilson also provided more information on the mask policy, sayong: "As I stated in my press conference remarks last night, health regulations have been amended to introduce fines for persons not wearing a mask in accordance with the law.
"A person who now fails to wear a mask when one is required commits an offence and is liable on summary conviction to:
a]a fine of $500, in respect of a first offence
b]a fine of $1,000, for a second or subsequent offence.
"If anyone is confused regarding when to wear a mask, please visit coronavirus.gov.bm and read the guidance regarding mask-wearing. To be clear, if physical distance of 6ft [2 meters] cannot be maintained from others you must wear a mask. Unless:
You are at home;
You are with members of your household;
While eating or drinking;
Doing high exertion exercise [see gym guidance]; or
A child under the age of 2 [see guidance].
"This mask requirement includes, but is not limited to:
1. Workers at all workplace premises – in accordance with workplace guidance
2. Passengers onboard public transport or in taxis must wear masks
3. Any person visiting any establishment [indoor or outdoor] [e.g. grocery store, shop, bank, office, etc] unless otherwise allowed by specific guidance [e.g. dining, gyms].
4. In public places [streets or parks] when other persons are present and 6 feet distance cannot be maintained."
The Public Health [COVID-19 Emergency Powers] Amendment [No. 3] follows below [PDF here]
Read More About