There have been 6 more positive Covid-19 results — one imported, two classified as local transmission with known contact and three under investigation — so Bermuda has now had a total of 278 confirmed positive cases to date, with 53 cases currently active, with two people now hospitalized, with one in critical care.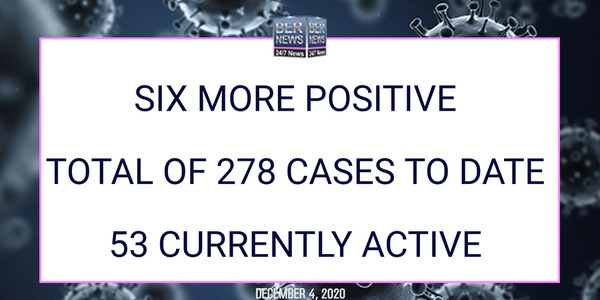 A Government spokesperson said, "There were 678 test results received by the Ministry of Health yesterday [3 December 2020], and six were positive for COVID-19.
"One of the new cases is classified as imported with details as follows:
1 resident who arrived on DL 617 from New York on 2 December 2020 and tested positive on their arrival test, having not had a pre-test
"Two of the new cases are classified as local transmission with known contact with details as follows:
2 residents who were under quarantine as close contacts [1 household, 1 workplace] of known cases, one of whom was symptomatic
"The remaining 3 new cases are classified as under investigation. These cases are among symptomatic residents with no history of travel or currently identified links to other known cases or clusters
"Bermuda now has 278 total confirmed positive cases. Their status is as follows:
there are 53 active cases, of which
51 are under public health monitoring and
2 are hospitalized with 1 in critical care;
a total of 216 have recovered, and
the total deceased remains 9.
"The average age of all of our confirmed positive cases is 51 years and the age range of all of our positive cases is from 0 to 101 years.
"To protect privacy and confidentiality, the average age and age range of the hospitalized cases will not be provided.
The average age of all deceased cases is 74 years and the age range is 57 to 91 years.
"The source of all cases is as follows:
127 are Imported
118 are Local transmission, with known contact/source
21 are Local transmission with an unknown contact/source, and
12 are under investigation
"As investigations proceed, transmission categories may change.
"The seven-day average of our real time reproduction number is greater than 1 [1.10] and Bermuda's current country status is 'Clusters of Cases'.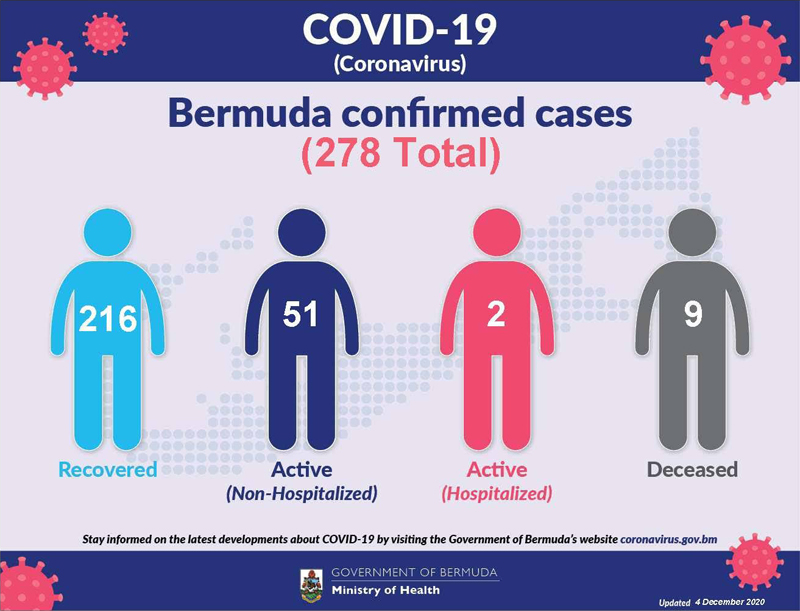 "The Ministry of Health can advise that it has opened a new drive-thru testing location at the Star of India in Dockyard. Testing appointments are now available at the Star of India on Friday December 4 [today] from 11am until 5pm.
"Additionally, testing on Saturday December 5 will be moved from it's originally scheduled location of the Modern Mart to the Star of India from 11am to 5pm. All those who have originally booked appointments for the Modern Mart will be notified of this change via email. There will also be testing at the Star of India on December 9 from 11am until 5pm. The Ministry of Health will advise of further changes to the testing schedule at a press update on Tuesday. You can book an appointment to be tested here: https://www.gov.bm/coronavirus-get-tested
"The Department of Health will host a walk-in Flu Vaccine Express on Thursday December 17, 2020 from 1:45 pm-4 pm, weather permitting, at the Hamilton Health Center, 67 Victoria Street, Hamilton."

As the island and world deals with the Covid-19 pandemic, we are doing our best to provide timely and accurate information, and you can find more information on the links below.
Read More About