A Journey to Telle and Titan Express will present "Sea Freedom Land" on Saturday, January 16 and Saturday, January 30.
A spokesperson said, "With the world at a standstill due to the Covid-19 pandemic, Shuntelle Paynter, of 'A Journey To Telle' has decided to operate from a solution-focused standpoint and provide a limited travel solution through local experiences in Bermuda.
"These experiences aim to challenge the participant to do something out of their comfort zone, support local businesses, all while on a budget, while creating affordable local experiences as the goal.
"Our signature experience is, 'A Land To Sea' experience which incorporates e-biking throughout the east end exploring hidden gems. This experience was curated in August 2020 and is still going strong today. Hence, we are collaborating with Titan Express to offer the "Sea Freedom Land" experience.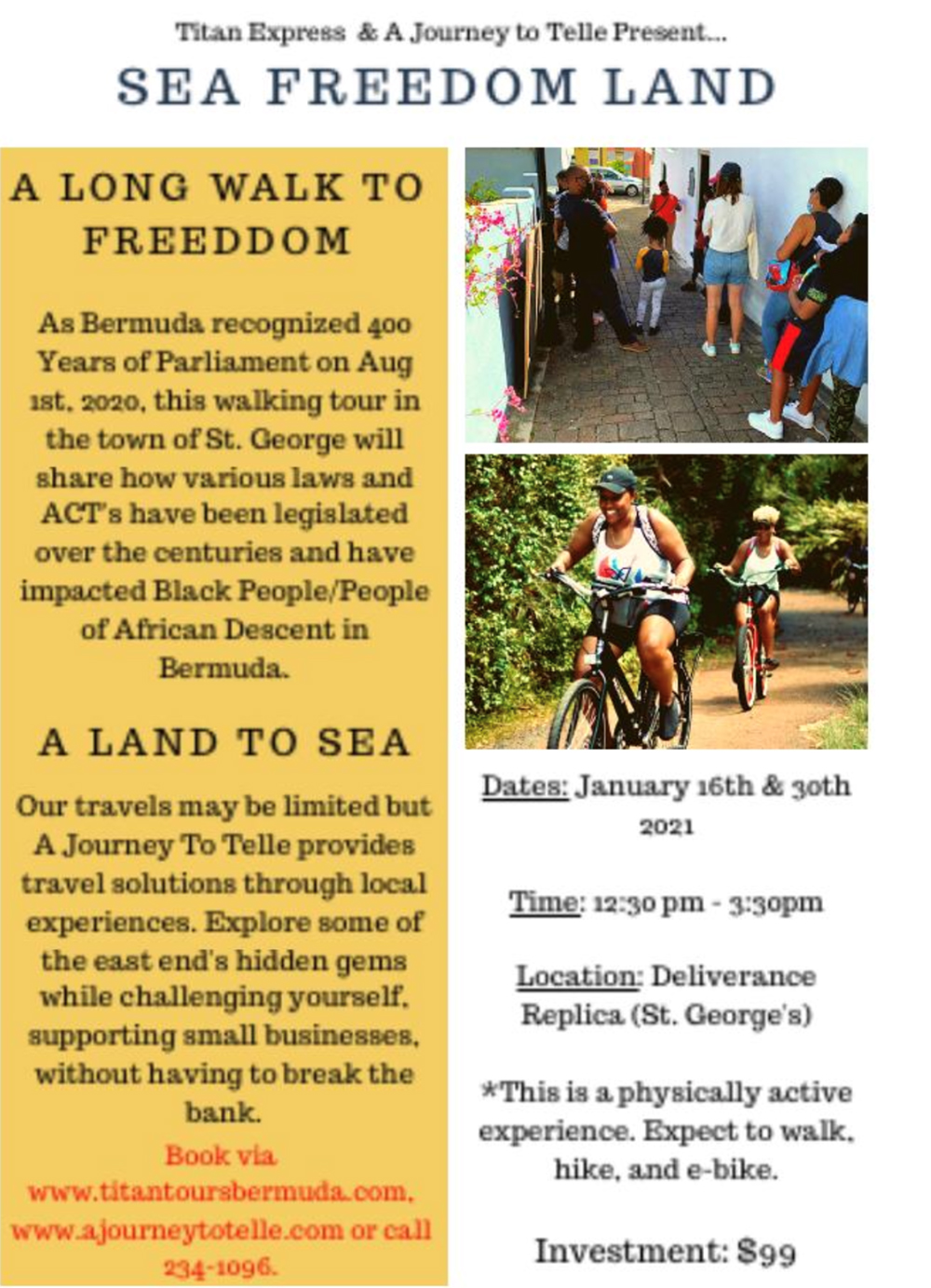 "This 3-hour experience offers a one-hour scenic historical African Diaspora walking tour with, "Titan Express" in the town of St. George, and then continue with, "A Journey to Telle" on a 2-hour, E-Bike exploration from St. George's to Blue Hole Hill park and return.
"This is a physically active experience. Therefore, expect to walk, hike, and e-bike and dress comfortably and bring a bottle of water. All required COVID-19 guidelines will be followed and guests are required to wear facemasks and the experience will be kept to a small group.
"Dates & Times offered: Saturdays, Jan 16th & 30th at 12:30PM – 3:30PM and the exchange is $99 per person.
"Tickets can be purchased on the Titan Express website at Sea Freedom Land Experience – Titan Express [titantoursbermuda.com] and for more information email info@titantoursbermuda.com or call 234-1096."
Read More About
Category: All, Entertainment, History, News