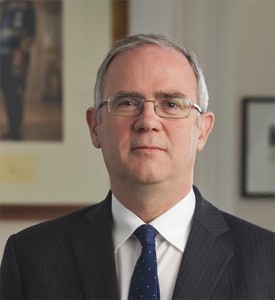 John Rankin — who previously served as Bermuda's Governor — has arrived in the British Virgin Islands, and will be sworn in as their Governor.
A statement from the Government of the Virgin Islands said, "Governor Designate Mr. John Rankin, CMG arrived in the Territory pn January 14. Mr. Rankin will be sworn in as the 15th Governor of the Virgin Islands subsequent to the completion of the required 14-day quarantine.
"Upon the announcement of his appointment last year, Mr. Rankin said that while 2020 was a challenging year, he was looking forward to the opportunity to partner with the Government and the people of the Virgin Islands.
He said, "The people of the Virgin Islands have shown great strength and spirit in meeting those challenges, and I promise to do all I can to support the building of further resilience against the risk of natural disasters.
"I look forward to contributing to life on the Islands and to carrying out my responsibilities under the Constitution in the areas of external affairs, security and good governance in service to the people of the Virgin Islands."
The statement noted, "Mr. Rankin has more than 30 years' experience in the public service, and his most recent post was serving as the Governor of Bermuda.
"Mr. Rankin holds a degree in Scots Law from the University of Glasgow and a Master's Degree in International Law from McGill University, in Montreal, Canada. Prior to joining the Foreign and Commonwealth Office, he qualified and practised as a solicitor in Scotland, and was a lecturer in public law at the University of Aberdeen."

Read More About
Category: All