The Bermuda Police Service is once again "advising the public not to provide personal details in response to requests sent via e-mail from unknown entities."
"These requests are usually linked to advisories informing the recipient that they have come into significant sums of money and all that is required for them to collect those funds is to provide personal information. As is the case with the two most recent scam e-mails being circulated locally," a spokesperson said.
Superintendent Sean Field-Lament said: "The purpose of these scams is usually identity theft. The advice is to not respond to these e-mails and immediately delete them. Do not open any attachments or links. Block the sender to stop any further messages from being received.
"These scam e-mails often include:
Awards of money or items of value for events not subscribed to. If it's too good to be true, it isn't true.
Requests for personal information, often including banking details.
Obvious bogus email to respond to. In the case of the most recent scam, company directors do not use Hotmail accounts.
Advisories that security measures/protocols need to be updated and request those details as well. Legitimate businesses do not operate in this fashion.
"Let me again stress, do not provide any personal information in response to e-mails from individuals or companies that you do not know and should you receive, such e-mails delete them immediately."
Samples provided by the police: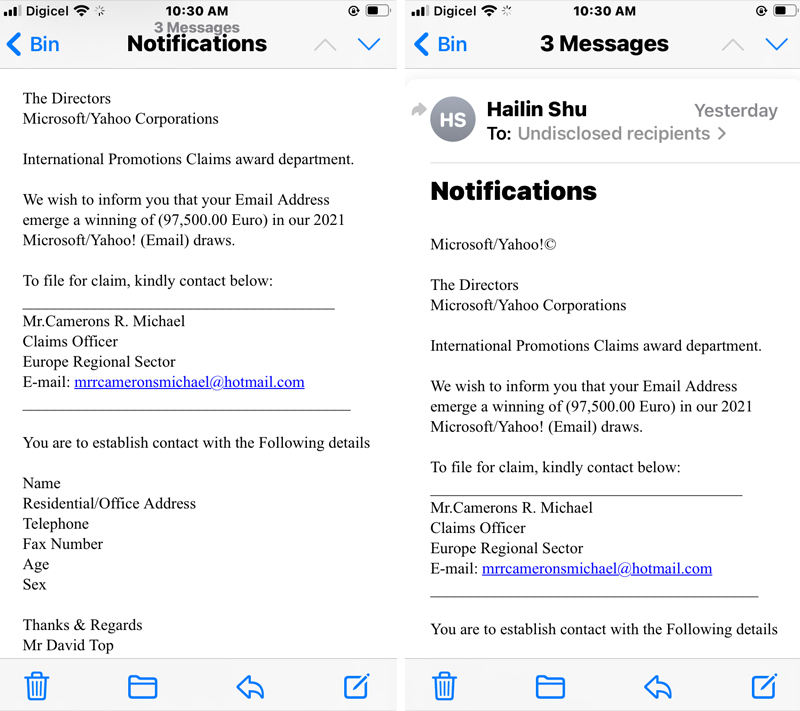 Read More About
Category: All, Crime, technology