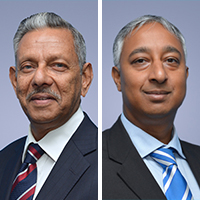 Apex Group Ltd. announced the final close of the acquisition of GFin Corporate Services Ltd. following regulatory approval from the Financial Services Commission.
"GFin is a Mauritius based and licensed Management Company, providing fund administration services to institutional clients. Its integration into the Group enhances Apex's long-established presence in Mauritius, supporting the provision of an extensive range of locally delivered fund administration and corporate solutions to clients," the company said.
"Founded in 2006, Apex Mauritius provides an efficient and flexible approach to fund services, tailoring its support to meet the specific requirements of over 200 clients in the jurisdiction. Apex Mauritius currently administers 15% of all new funds in the jurisdiction.
"Through this acquisition, GFin's clients will now benefit from the Apex's international footprint; accessing new markets through the Group's globally connected operating model across 45 offices, supported by 4,000 employees.
"Since launch in 2010, GFin has demonstrated a robust business model, driving strong organic growth, with total aggregate assets under administration of $18 billion. The acquisition of the GFin business, which will now operate under the Apex Group brand, adds an additional 130 qualified professionals with a focus on funds and cross-border investment servicing to the Group.
"GFin's Co-CEOs and Co-Founders, Tej Gujadhur and Santosh Gujadhur, will now take on leadership roles within Apex Group in Mauritius, ensuring continuity of relationships for clients."
Peter Hughes, Founder and CEO of Apex Group comments: "Mauritius is a growing hub for financial services in the region, and continues to attract investors looking to access both Asian and African markets. With this acquisition, Apex is well positioned as the leading fund administrator in Mauritius to ensure that we deliver outstanding services and products which meet the requirements of each individual client."
Chandra K. Gujadhur, Chairman and Co-Founder, Mauritius at Apex Group notes: "We are pleased to announce the completion of this acquisition, a significant deal which complements Apex's established presence in Mauritius. The management team of GFin share our commitment to providing a responsive, dynamic and solution-oriented service which, coupled with Apex's global operating model, will ensure the highest levels of client service. Welcome to all our new colleagues, and look forward to working closely with Tej and Santosh as they join our existing leadership team."
Tej Gujadhur and Santosh Gujadhur, Co-CEOs and Co-Founders of GFin add: "We are excited for this transformative stage as GFin becomes part of the Apex Group. Our clients will benefit hugely from Apex's global scale with services and products underpinned by best in class technology platforms.
"This transaction will enable us to better serve our new and existing clients by drawing on Apex's global network, density of product and innovative solutions. In our new roles, working with the existing senior management team of Apex Mauritius, we excited for the future opportunities as the leading fund administrator in the region."
Apex Group Ltd., established in Bermuda in 2003, is a global financial services provider.

Read More About