Conyers announced the winners of the Black History Month Essay Competition, with Razeeyah Robinson winning first place, McKenzie-Kohl Tuckett winning second place, and Kaelyn Fleming receiving an honourable mention.
A spokesperson said, "Conyers is pleased to announce the three prize recipients for the firm's Black History Month Essay Competition:
First Place: Razeeyah Robinson [Whitney Institute]
Second Place: McKenzie-Kohl Tuckett [Warwick Academy, Year 12]
Honourable Mention: Kaelyn Fleming [Berkeley Institute, Year 10]
Razeeyah Robinson [First Place] and McKenzie-Kohl Tuckett [Second Place]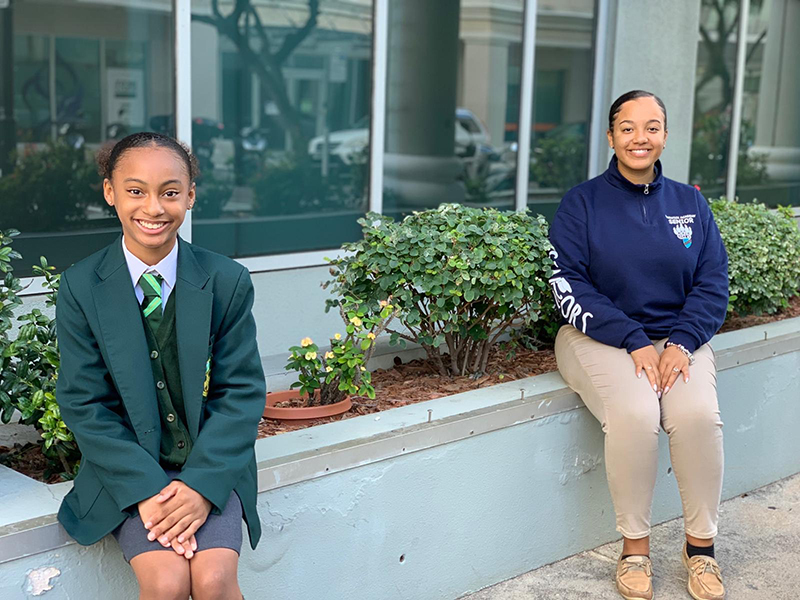 "Students were asked to discuss the contributions made by a Black heroine or hero to Bermuda's legal system in a maximum of 1,500 words. The aim of the essay competition was to honour Black Bermudians who have made a significant contribution to Bermuda's legal system and to inspire young Bermudians to forge their own path in Bermuda's legal field.
"Razeeyah Robinson will receive a prize of $1000 for her essay in honour of Julian Hall. McKenzie-Kohl Tuckett chose to honour Dame Lois Browne-Evans, DBE JP MP in her essay and Kaelyn Fleming celebrated the work of Claudette Fleming; both will receive a $500 prize."
"We congratulate all of the students who participated in the competition for submitting engaging and well researched essays," said Sophia Greaves, one of the judging panel.
"We were pleased to receive entries from students across a wide age range, from several schools, celebrating a number of black heroines and heroes from Bermuda's legal history. As we hoped, choosing the winning essays was not an easy decision.
"This was the first year that Conyers has held this competition, and we are inspired by the way it has enabled us to engage with young people who have an interest in the law. The firm has decided that the essay competition will be an annual event and we are already looking forward to reading next year's entries."
"To read the essays submitted, visit here."

Read More About