Gary Fray was this year's honouree at the fifth annual Knights Charity Golf Tournament, with Richard Knights making a presentation.
A spokesperson said, "Richard Knights of Knights Charity Golf Tournament made a presentation to Mr. Gary Fray, long serving President of Warwick Workman's Club for his contribution to sports in Bermuda.
"In his younger years, Gary Fray was an accomplished cricketer who grew up in Dock Hill Community and began at Devonshire Recreation Club as a junior before his family moved to Hillview near Warwick Park. The influence of a sports club within a community cannot be overstated, and with Warwick Park being the home field of Warwick Workman's Club, the legend of Gary Fray began.
"Gary Fray enjoyed an outstanding club career as an athlete for Warwick Workman's Club and was rewarded with selection into Cup Match for Somerset Cricket Club. But it was a milestone century in Barbados while on tour with Somerset CC that is Gary Fray's crowning moment, a feat against a team that consisted of legendary West Indian test players Charlie Griffiths, Wes Hall, and Seymour Nurse.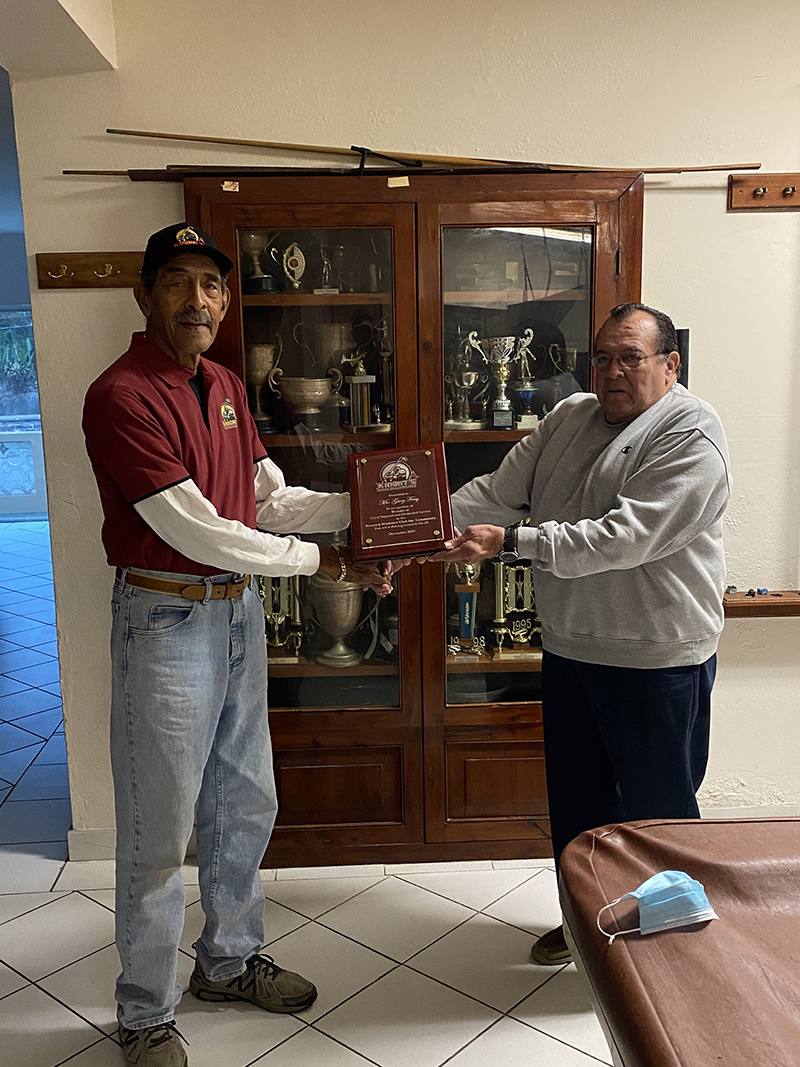 "Due to COVID and the necessary regulations because of the pandemic, this presentation – which customarily would have been at the conclusion of the golf tournament – represents the 2020 event. The inaugural recipient in 2019 was Kim Swan, who has been enlisted to assist with the event's publication relations."
President Fray said, "Upholding standards and etiquette is paramount here at Warwick Workman's Club experience."
The spokesperson said, "It was clearly noticeable as we walked throughout the property.
"Event founder Richard Knights expressed his proud admiration for President Fray and his commitment to club life at Warwick Club and pleased that he accepted to be honoured."
Mr. Knights said, "I feel is important to recognize persons while they are still with us. In the case of Gary Fray, he continues to work tirelessly for Warwick Club and sports in Bermuda."
The spokesperson said, "The 2021 event details will be announced later in the year."

Read More About