The International Women's Day Bermuda [IWD Bermuda] committee announced that they will hold a virtual celebration on Monday, March 8th.
A spokesperson said, "On Monday, March 8th 2021, communities across the globe will collectively celebrate International Women's Day 2021, recognizing women and their achievements, while highlighting the ongoing mission of seeking equality for women.
"This year's theme is "Choose to Challenge" because change can occur when you make the decision to stand up and challenge the status quo. Individually, we're all responsible for actions but by working together, we can help make the shift to a more inclusive world.
"For this reason, the International Women's Day Bermuda [IWD Bermuda] committee is excited to announce that on Monday, March 8th, they will continue with their annual celebration by hosting a virtual event from 12:30p.m.-1:30p.m."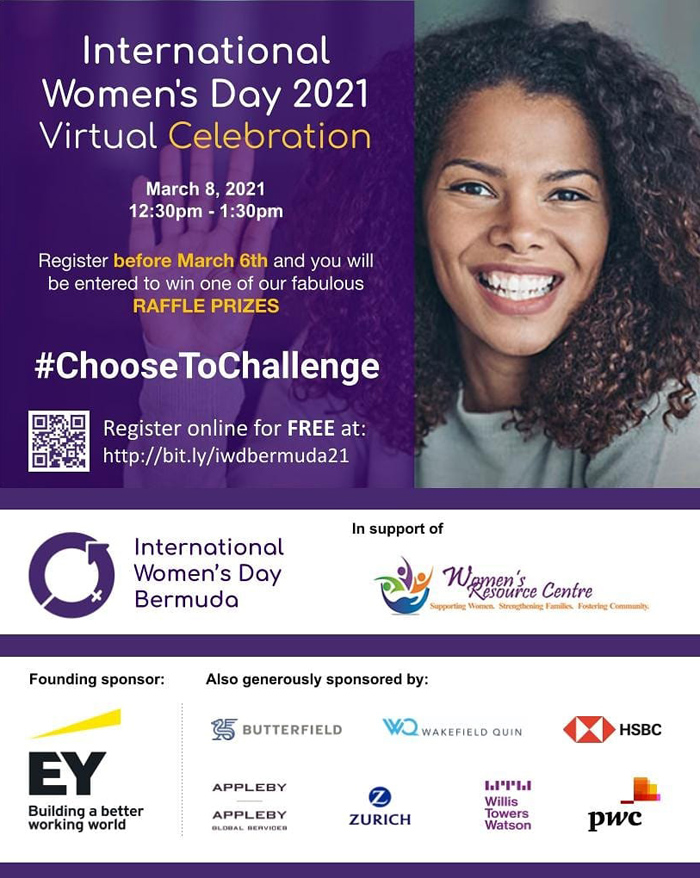 Founder and Co-chairperson Katarina Hoskins remarks: "I'm pleased to note that this is the sixth year that we will be publicly celebrating International Women's Day in Bermuda.
"While we have enjoyed the atmosphere and harmony that our past live events have garnished, the pandemic has caused us to pivot into a new direction, and as such we are hosting a virtual event, which will allow us to reach a wider audience. We are hoping that with this new platform, we will double the attendance and our message of gender equality reaches a broader cross section of people within the community".
"The event will be hosted by Patrina 'Power Girl' O'Connor-Paynter, with a number of speakers, including Premier David Burt and First Lady Kristin Burt, Governor Rena Lalgie, 2018 Future Leader McKenzie-Kohl Tuckett, and DeShay Caines, Vice President of Diversity, Inclusion and Social Impact at Bowring Marsh [Bermuda] Ltd. Attendees will also watch as the 2020 Woman of the Year, Tami Ray, as she hands over the baton and introduces the 2021 recipient.
"If you wish to attend the International Women's Day Bermuda 2021 Virtual Celebration, you must register here. Anyone that registers before Saturday, March 6th 2021, will automatically enter a draw for a number of prizes donated by industry partners."
"We are proud to be founding sponsors of this impactful event that began six years ago," remarks Cordelia Davis, EY Partner and Financial Accounting Advisory Services leader for the EY Region of The Bahamas, Bermuda, British Virgin Islands and Cayman Islands.
"At EY, we believe that an empowered diverse workforce is the foundation for long-term value for our clients and our communities. By proactively creating an environment where women feel like they belong and that they are part of something that is purpose driven, EY is gaining diverse perspectives and delivering a better working world."
IWD Bermuda said they "would like to thank its founding sponsor, EY, for its ongoing support of this event, and would also like to recognise and thank its supporting sponsors: Wakefield Quin, Appleby, Willis Towers Watson, Butterfield, Zurich, HSBC and PWC. Part proceeds from this event will be donated to the IWD Bermuda partner, the Women's Resource Centre.
To learn more about the event and how to get involved, you can email: BermudaIWD@gmail.com or follow them on Facebook and Instagram on: @IWDBermuda.
Read More About