After adjusting for the retail sales rate of inflation, measured at 0.8% in October, the overall volume of retail sales increased 7.9% when compared to October 2019, according to the recently released Retail Sales Index.
A Government spokesperson said, "Today the Minister for the Cabinet Office the Hon. Wayne Furbert, JP, MP, released the October 2020 Retail Sales Index.
"In October, the overall volume of local retail sales increased 7.9%. This compares to the previous year's local retail sales which reported a volume decrease of 3.6% for October 2019.
Chart extracted from the report: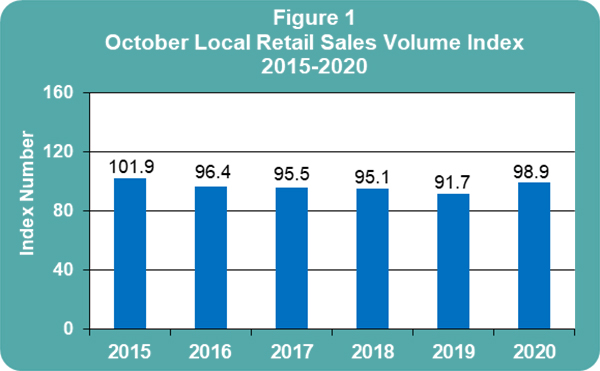 Minister Furbert said, "The retail sales growth in October 2020 is the 4th consecutive month of increase as compared to the same month in 2019. This consistent increase in activity is good news for Bermuda's economy, and many local businesses."
Six of the seven retail sales sectors experienced positive growth in October 2020. Motor Vehicle stores experienced the largest sales volume increase of 21.2 per cent due mostly to an increase in the number of cars sold."
"The All Other Store Types sector comprises a variety of stores selling household items, furniture, appliances, electronics, pharmaceuticals, marine supplies and tourist-related goods.
"This retail sector recorded a 9.5 per cent rise in sales volume due mostly to increased demand for boating accessories, furniture, appliances and electronics. Gross receipts from the sale of miscellaneous goods decreased 3.8 per cent due to reduced spending in tourist-related stores."
"Building and material stores saw an increased sales volume of 5.1%, with value in sales revenue increasing by 5.2%."
"Food Stores and Liquor Stores recorded a 7.2 per cent and 17.7 per cent growth in volume sales, respectively. The positive sales growth was attributed partly to rises in the prices for food and alcohol of 3.6 percent and 2.6 per cent respectively, as well as more on-island spending by residents."
The Minister continued, "Retailers of fuel experienced a slight 0.1 per cent increase in sales during the month. In contrast, retailers of Apparel Stores experienced an 11.9 per cent decline in sales volume due partly to increased online purchases of clothing from overseas retailers and lack of resident and tourist purchases."
Minister Furbert said, "I would like to thank the residents of Bermuda for playing a key role in revitalizing retail sales, as I recognize that many residents are not traveling and spending some of their earnings in Bermuda. In addition, the Government's continued commitment to remove unnecessary red tape is bearing benefits which are visible and measurable within these recent statistics from our local economy."
The full October 2020 Retail Sales Index publication follows below [PDF here]:
Read More About