After adjusting for the retail sales rate of inflation – measured at 0.9% in November – the overall volume of retail sales increased 7% when compared to November 2019, according to the recently released Retail Sales Index.
A Government spokesperson said, "Today the Minister for the Cabinet Office, the Hon. Wayne Furbert, JP, MP, released the November 2020 Retail Sales Report which recorded the 5th consecutive month of increased sales when compared to the prior year.
"In November, the overall volume of local retail sales increased by 7.0%. This compares to last November's local retail sales which reported a volume decrease of 3.9% over the prior year. In value terms, retail sales rose 7.9% to an estimated $99.3 million.
Chart extracted from the report: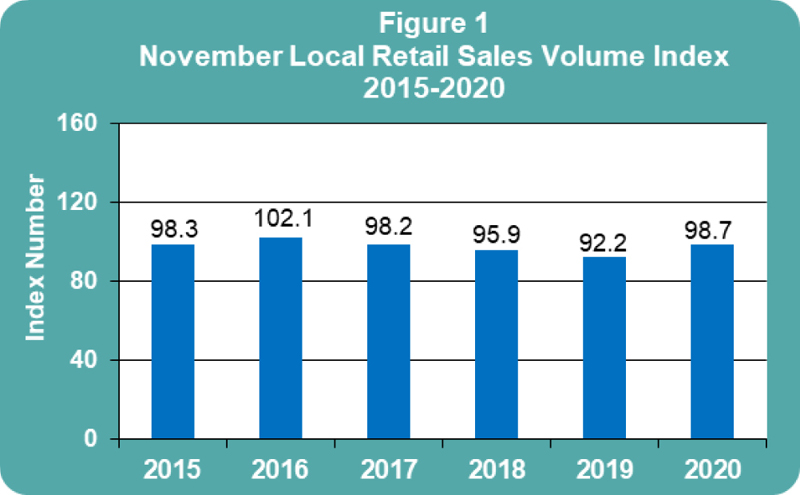 Minister Furbert said, "The retail sales growth in November 2020 is the 5th consecutive month of increase when compared to the same month in 2019. This consistent increase in activity is good news for Bermuda's economy and many local businesses. These results prove that the Government's actions taken to stimulate the economy in the wake of the COVID Pandemic are working."
Minister Furbert further noted that in November 2020,"four of the seven retail sales sectors experienced positive growth, led by the Building Material stores which experienced the largest sales volume increase of 13.4 per cent". In November 2019 sales volume for Building Material stores were down by 10.3% over the prior year.
The Minister continued, "The streamlined processes implemented by the Government regarding planning applications is continuing to encourage many building projects to start early, which has helped local businesses and the economy overall. Additionally, there is robust activity in the local housing market which is also contributing to the increase in building materials sales due to renovations."
"Food stores and liquor stores recorded a 7.9% and 10.7% growth in volume sales, respectively, as compared to November 2019.
"The All Other Store Types sector is comprised of a variety of stores selling household items, furniture, appliances, electronics, pharmaceuticals, marine supplies, and tourist-related goods. In November 2020, it showed a 12.5% increase, compared to a decrease of .3% in 2019.
Minister Furbert also noted, "Total selected overseas declarations increased 28.4 per cent in November 2020 compared to November 2019. The rise in overseas declarations was influenced by greater imports of clothing, printed materials, and pharmaceutical products by courier as well as machinery, appliances, electrical equipment and furniture directly by sea."
"Apparel store volume sales were down 11.9% in November, which reflects the second lowest decrease month-to-month, in the last 13 months.
Minister Furbert closed by saying, "During these difficult and challenging times for all of us, I would like to thank residents who are playing a key role in supporting local businesses while keeping people employed and aiding our economy."
The full November 2020 Retail Sales Index publication follows below [PDF here]:
Read More About