The newest recruits to the Royal Bermuda Regiment have spent their first nights under canvas as part of their tough two weeks of basic training.
The rookie soldiers endured rain and chilly temperatures as they practised their new fieldcraft skills in Exercise First Encounter at Hog Bay Park in Sandys on Monday and Tuesday – and did not let the weather deter them.
Private Donavon Burgess, 21, said: "It's been better than I thought. I've really enjoyed it."
Pte Katy Wright and Corporal Melissa Brangman at Hog Bay Park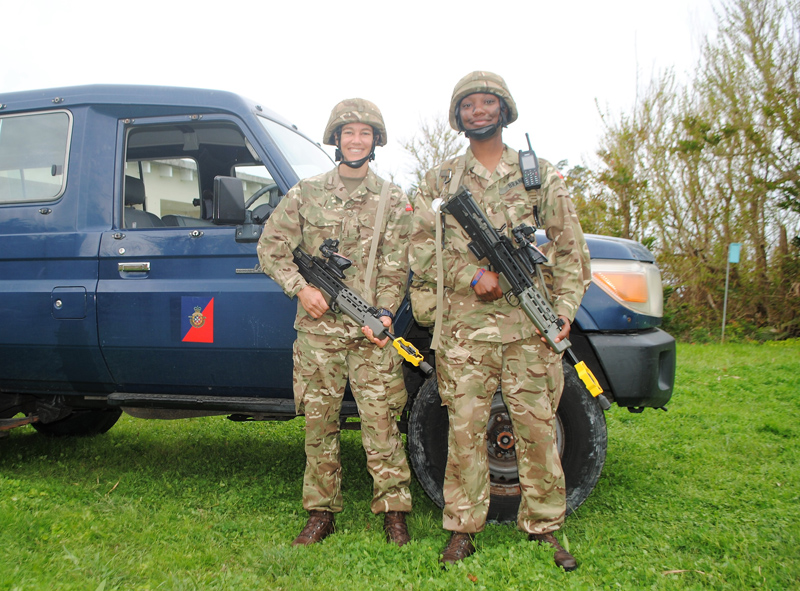 Pte Burgess, from St George's, who has an interest in mechanics and is job-hunting, added: "I've heard the mechanics programme in the Regiment would help me.
"I'm thinking of joining B Company for disaster relief work or Motor Transport."
Pte Katy Wright, 41, who works for the Yellow Pages and at a stable in civilian life, said: "I've enjoyed the adventure of learning.
"There's been very long days, which is a bit tiring. Learning about the rifles has been pretty cool and I'm looking forward to the obstacle course and the firing range."
Pte Naphtali Smith and Pte Donavon Burgess on Exercise First Encounter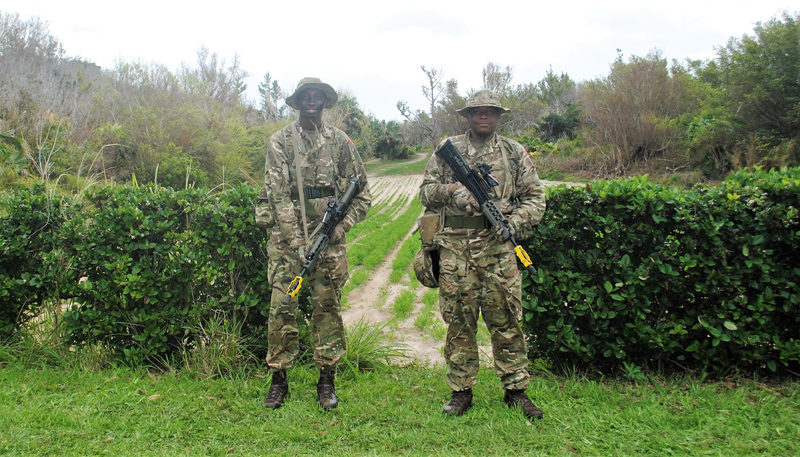 The mother of an 11-year-old girl admitted: "I feel it a little bit more in my joints than some of the younger ones, but I keep up with them."
Pte Naphtali Smith, 18, from Pembroke, said he had taken the outdoors exercise and practicing patrol techniques in his stride.
The sail training instructor added: "I've enjoyed the fitness aspect and the weapons training.
"I would say the drill lessons have been the hardest, but I'm getting better at it as I go on.
An RBR section practises patrol techniques on Exercise First Encounter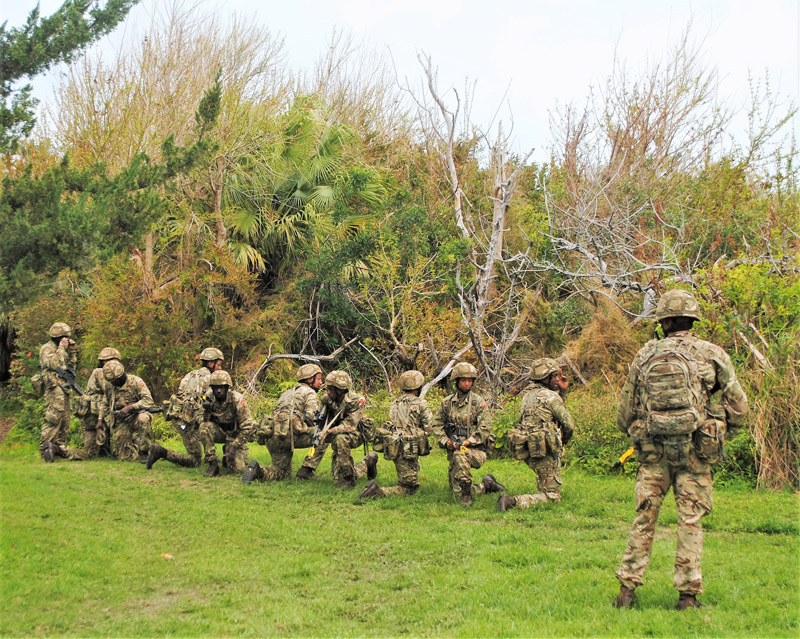 "I'm looking forward to the drill competition and the range firing – and to going home."
Corporal Melissa Brangman, a section commander for Recruit Camp, said: "They're all doing pretty well.
"It's my first time as a section commander in Recruit Camp. I've got a good bunch of soldiers, so they haven't made my job very difficult – the team's coming together and they're working as one."
Cpl Brangman, who returned last autumn from an intensive two-week firing range training course with the British Army in the UK, said the RBR offered a variety of routes for personal and professional advancement.
New RBR soldiers on field exercises at Hog Bay Park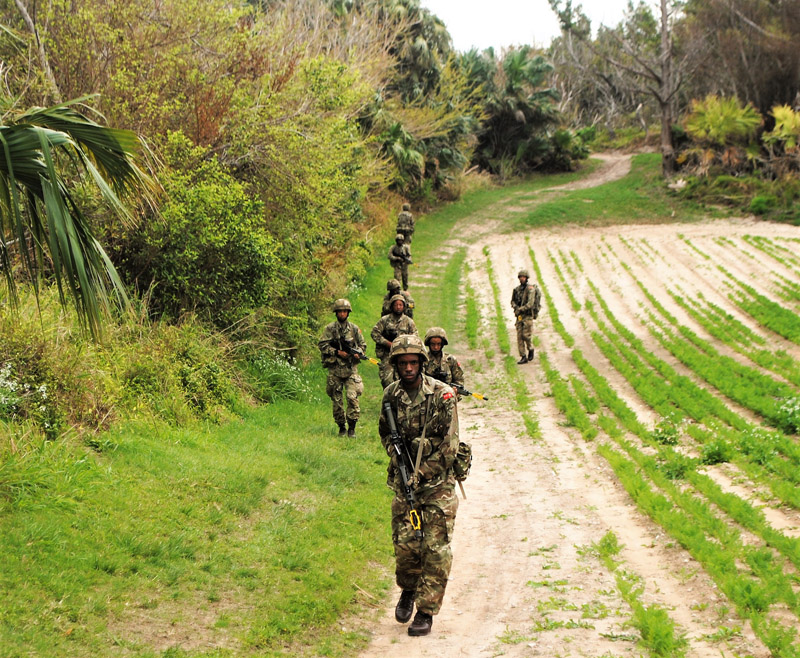 2nd Lieutenant LeeAnn Tucker, 29, added: "They are all learning and soaking up what's going on. Talking to some of the soldiers, the jam-packed days can be tough.
"The first few days are hard – but as the days go on, it gets better. They're in good spirits and looked forward to this exercise and it's good to see they're excited about it.
"You can't ask for more than that they're willing and keen to get into it."

Read More About