The Bermuda Environmental Sustainability Taskforce [BEST] has launched a campaign which urges the community to protect the ocean by reducing carbon footprint, flying less, eating less meat, supporting renewable energy, buying only local or imported fish that is sustainably sourced, and avoiding single-use plastics.
The campaign poster says, "As humankind battles Covid-19, let's not forget that our ocean is struggling against three pandemics of its own!
Our Coral Reefs Are Dying
"The world could lose all coral reefs by the end of the century, unless there are drastic reductions in greenhouse-gas emissions. [United Nations Environmental Programme].
Our Fish Are Being Wiped Out
"A third of commercial fish stocks are being harvested at biologically unsustainable levels. 90 percent are fully exploited. [UN Food and Agriculture Organization].
Our Oceans Are Filling Up With Plastic Waste
"By 2050 there will be more plastic than fish in the sea. [Ellen MacArthur Foundation in partnership with World Economic Forum].
You Can Protect Our Ocean Here At Home In Bermuda By:
"Reducing your carbon footprint. Fly less, eat less meat and support renewable energy.
"Buying only LOCAL or imported fish that is sustainably sourced, to ensure the fish you are consuming aren't the result of illegal or destructive fishing practices.
"Avoiding single-use plastics like plastic bags, disposable plates and cutlery. Change the scourge of the throw-away habit that has resulted in a massive increase in the production and use of plastic products.
"The oceans are the very foundation of human life. We cannot survive without them!"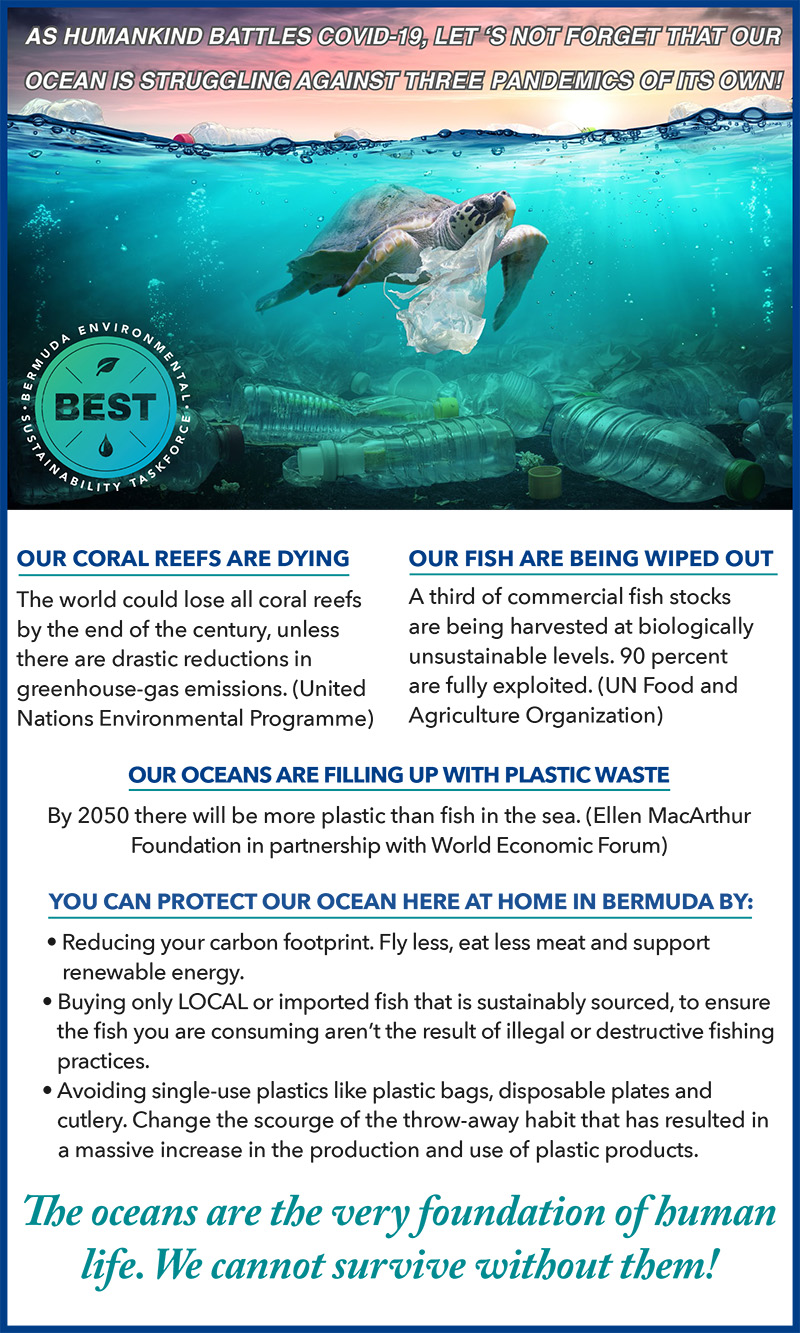 Read More About
Category: All, Environment, News