In celebration of World Water Day, the Bermuda Underwater Exploration Institute [BUEI] will host an open house on March 20th.
A spokesperson said, "The Bermuda Underwater Exploration Institute [BUEI] will host an open house on March 20th from 10am–4pm in honor of World Water Day and the entire community is invited to this free event.
"Commemorated annually since 1993, World Water Day celebrates water and raises awareness of the 2.2 billion people living without access to safe water.
"The 2021 theme focuses on valuing water by challenging individuals to think about what water means to each of us on a personal basis, and to share their thoughts using the hashtag #Water2Me."
"We're using this opportunity to shine a spotlight on the importance of water to Bermuda's past, present and future prosperity," said Karla Lacey, BUEI CEO. "While Bermuda is surrounded by water and largely independent when it comes to maintaining our individual water supply, as consumers we also contribute to the strain on global water resources."
The BUEI team, along with dedicated volunteers, will lead a complimentary 90-minute guided experience throughout BUEI every 30 minutes. The public will have the opportunity to explore the many different ways water benefits our lives, both onshore and off through engaging presentations, fun hands-on activities, and a water tasting that is sure to add a touch of sparkle.
"Over the past few weeks, we've captured residents of all ages on video sharing why water is important to them and interviewed local subject matter experts on the topic" said Ms. Lacey. "Their compelling stories and comments, which will be shared throughout the tour, help promote a greater appreciation for this vital resource, and an understanding of how we can properly safeguard it effectively for our Island."
"Advance booking is required. Maximum 12 person per tour," a spokesperson said. "For more information about BUEI's World Water Day celebration and to book your space, visit www.BUEI.bm or call 294-0204.
"BUEI is a Safe Travel Destination and follows all relevant health protocols to ensure the safety of our guests."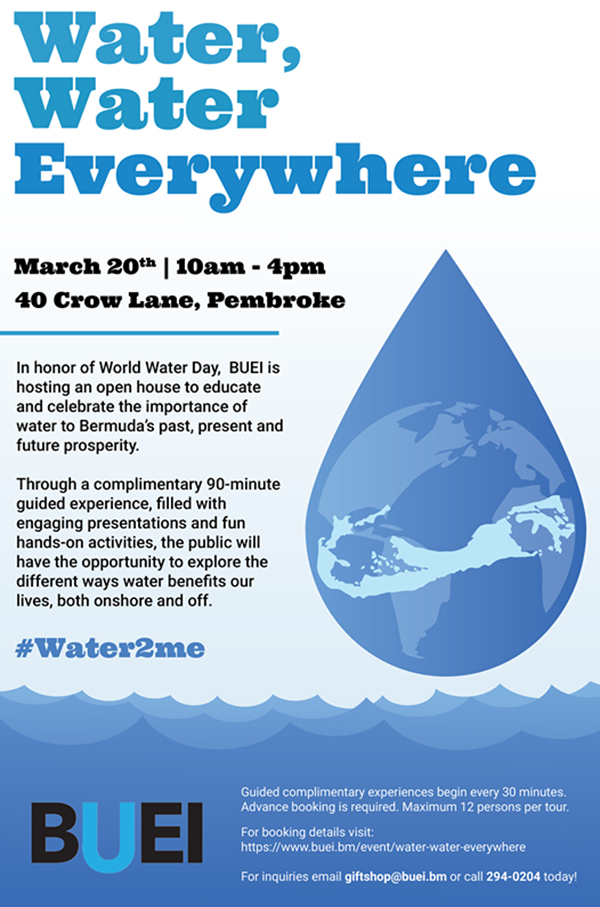 Read More About
Category: All, Environment