A golf program called the "Louis Rafael 'Kid' Corbin Fore-Caddy Program" will be launched, with the initiative aimed at providing suitable training, and programs for potential caddies.
A spokesperson said, "The Golf Professionals at Ocean View and Port Royal Golf Courses are putting their collective minds together to come up with ways to provide employment opportunities and to generate interest in golf at the grassroots level.
"The launch of the "Louis Rafael 'Kid' Corbin Fore-Caddy Program" is an initiative that will come at a time when both Ocean View and Port Royal Golf Courses – who have a rich history – are both in the midst of celebrating significant historical milestones.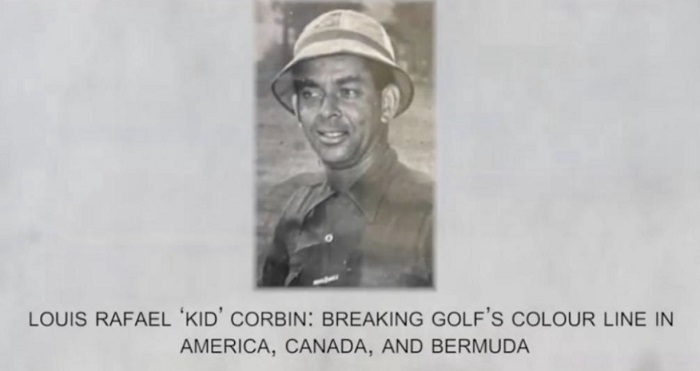 "It is important to note, that Louis Rafael 'Kid' Corbin was the person Bermuda caddies turned to when in the 1940's they went on strike for better wages.
"For the record, Ocean View was opened 71 years ago in 1950 with David Tucker – President, A B Place -Secretary, Llewelyn DeRosa, Harry Webb, George Lowe, and Percy Vincent joined Governor Lt. General Sir Alexander Hood for an inaugural 3-hole celebration featured in the Royal Gazette.
"It's also the 50th Anniversary of Ocean View Golf Professional Frank Rabain becoming the first Bermudian to qualify for the British Open in England.
"Port Royal celebrated its 50th Anniversary on October 29th unwittingly during the PGA Tour Bermuda Championship. Chairman Reggie Tucker [an associate of Louis 'Kid' Corbin, George Wardman and Hubert Smith [former long serving Ocean View President] as members of the first Board of Trustees. Port Royal also will commorate the 50th Anniversary of Walter King winning the Bermuda Open, later becoming our 1st Golf Professional.
"Ironically, April 1st will mark the 70th Anniversary of the death of Louis Rafael 'Kid'Corbin who was also the Golf Pro at the Devonshire Golf Links in 1933 – the same course that later was operated by Ocean View Golf Club.
"The credit for moving forward with the Fore-Caddy Program must go to Ocean View Pro Brian Morris and the initiative is timely, as he together with Acting Manager Steven Lambert, both feel that this initiative will not only provide employment opportunities but will help us to grow the game.
"Coincidentally, Brian Morris had hoped to launch this program in April and prophetically this April marks 70 years since Louis Corbin's passing.
"With the support of the Board of Trustees it is envisaged that uniforms and suitable equipment will be provided to assist fore-caddies to provide accurate information to golf patrons.
"The Government Golf Course Professionals will look to encourage other pros within the Bermuda Professional Golfers Association to do likewise providing suitable training and certification program for the potential caddies.
Government Golf Course Chairman Kim Swan – a product of caddying himself – applauded the Louis Rafael 'Kid' Corbin Fore-Caddy Program as an excellent outreach initiative and one that can help with greater employment opportunities and introduce unsuspecting persons to the game of golf."
Mr Swan added, "Naming this program in honour of Louis Rafael'Kid' Corbin Is a great way to pay homage to a man whose contribution has been misunderstood and whose unorthodox advocacy helped immensely to remove the barriers of segregation within golf."
Acting Manager, Steven Lambert shared, "successful candidates who apply themselves will have an opportunity to be considered as caddies when the PGA Tour Bermuda Championship comes to town."
For further information contact: Steven Lambert, Acting Manager [Government Golf Courses] at 234-40975 SLambert@bermudagolf.bm or Brian Morris, Golf Professional [Ocean View] 295-9092 brian.morris14@yahoo.com.

Read More About