Tomorrow [March 12], the Department of Culture will host the third Creatives Live! event, which will feature performances by CuSh Evans and Brittany Cox [Brixx] on the steps of City Hall.
A Government spokesperson said, "The local musical midday concert series is aimed at showcasing and supporting Bermuda's talented artists – many of whom have faced challenges due to the pandemic. It's also a way to entertain and uplift the community during these challenging times.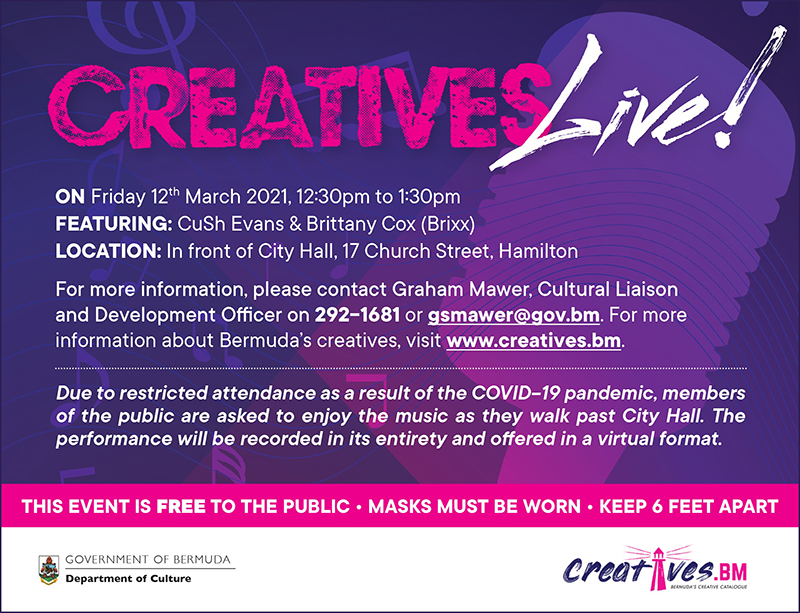 "On February 12, popular local singer Joy T. Barnum launched the initiative and two weeks ago, The Unit Band delighted passersby with their performance.
"So far, both events have been well received by members of the public.
"Tomorrow CuSh Evans and Brittany Cox will perform from 12.30 – 1.30 pm, promising an upbeat musical atmosphere in the city during the lunchtime hour.
"Creatives Live! is in keeping with the COVID-19 health and safety guidelines. In that regard, members of the public are asked to enjoy the music as they pass by City Hall.
"As a note, all of the performances will be recorded and offered in a virtual format so that the community can also enjoy at a later date via CITV and the Department of Culture's YouTube page.
"For more information about Creatives Live!, please contact Graham Mawer, Cultural Liaison and Development Officer on 292-1681 or gsmawer@gov.bm. To find out more about Bermuda's creatives or if artists wish to be featured in the Department's online catalogue, please visit www.creatives.bm."

Read More About
Category: All, Entertainment, Music