This Wednesday [Aug 31], the Department of Culture will host a special Harbour Nights edition of Creatives Live! – featuring local artists Lyaness, Will B, Pier and Cush Evans.
A Government spokesperson said, "Happening at the Flagpole on Front Street, this special performance of the popular open air concert series will take place from 9.00 pm – 10.00 pm.
"Wednesday's performance by four of Bermuda's most talented young vocalists is not to be missed.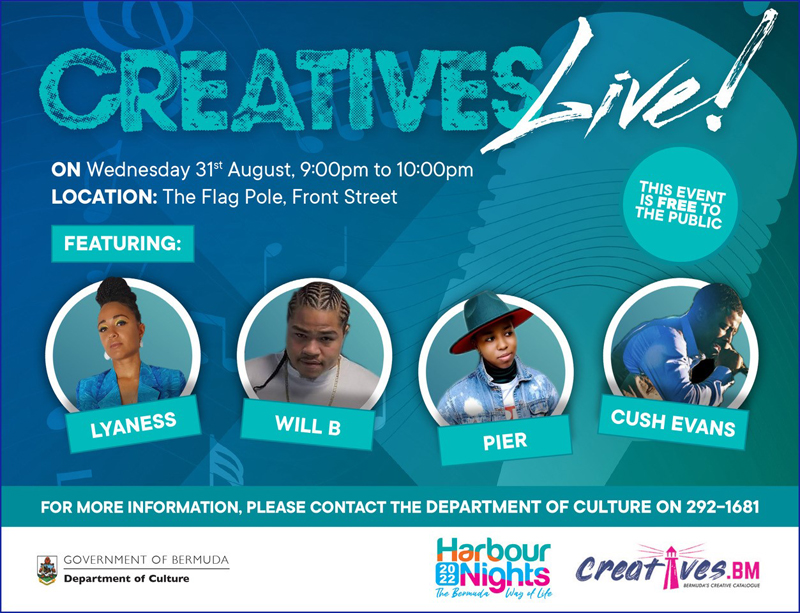 "A bit of background on the artists:
CoShaun "Cush" Evans has been singing on stage since the age of six [6]. Over the years he has performed at church, weddings, stage shows, concerts and more. He has travelled extensively, and his favourite genres of music are Reggae, R&B and Hip Hop. Cush's music can be found on itunes, Amazon and Spotify to name a few. Cush also has a very popular social media following, and he can be found on Youtube, Facebook and Instagram.
From a very young age Willard "Will B" Burch has been on the music scene in Bermuda. Willard is considered one of Bermuda's top entertainers. As a singer, musician, songwriter and composer Willard has proven to be a force to be reckoned in his own right.
Pier is a 22-year-old singer/guitarist. Pier has always been a natural performer and loves to be on stage. She has also been a part of a few local productions, including, "To Kill a Mockingbird", and she was a dancer in Troika's Young Chorographers showcase.
Leeann "Lyaness" Medeiros is a talented young local singer. Lyaness already has completed five singles and a music video. She writes her own music and continues to engage in musical events to expand her growing career.
"For more information about Creatives Live!, please call 292-1681. To find out more about Bermuda's creatives or if artists wish to be featured in the Department's online catalogue, please visit www.creatives.bm."

Read More About
Category: All, Entertainment, Music