HSCM Bermuda will provide $20,000 in sponsorship for Future Leaders Bermuda in addition to the "launch of a mentorship and work shadowing scheme, a community service day, and guaranteed internships with placement for Future Leaders in HSCM Bermuda's office."
A spokesperson said, "Future Leaders Bermuda today announced its first ever corporate partnership, which will see a number of Bermudian students given the opportunity to engage in internships and networking initiatives with top executives at an international asset management firm.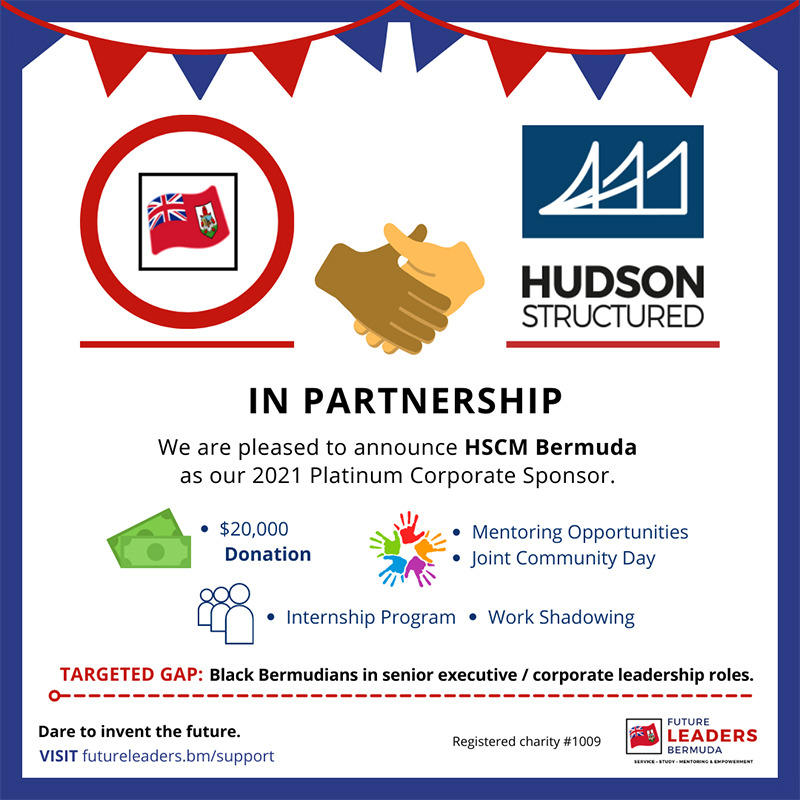 "Hudson Structured Capital Management Ltd. through its reinsurance and ILS investment management business arm, HSCM Bermuda, has agreed to serve as platinum sponsor for Future Leaders Bermuda to the tune of $20,000 for the year 2021 – in addition to the launch of a mentorship and work shadowing scheme, a community service day, and guaranteed internships with placement for Future Leaders in HSCM Bermuda's office."
According to Ryan Robinson Perinchief, Founder and Director of Future Leaders Bermuda, the partnership was founded on the belief that the lack of Black Bermudians in top leadership roles was in part due to lack of early exposure to its most important industries, and a direct link to current executives who could 'pay it forward' by working to develop successive leaders through mentorship over time.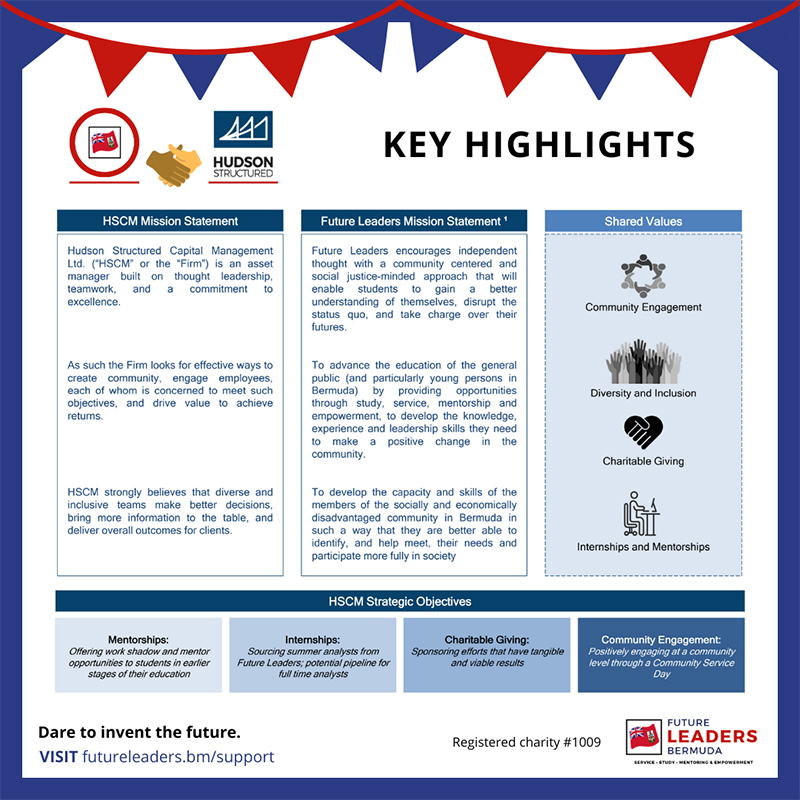 Bernard Opoku, Managing Director of HSCM Bermuda, stated: "As a Ghanaian raised in London and working in Bermuda, I have witnessed the lack of Black professionals in top leadership roles throughout my life and career.
"Around the time of the Black Lives Matter march, I questioned how I have used my experiences and position to address this. That's when I connected with Ryan from Future Leaders and said, 'we have to do something about this'."
"The Work Shadow program will give students short-term opportunities to explore the financial services industry and help determine whether it's something they might want to pursue further", Mr Bernard stated.
"The HSCM Bermuda Summer Internship Program is an opportunity for paid work experience for students as they begin their careers. Work Shadow Students and Summer Interns will interact with team members of Hudson Structured Capital Management Ltd. at all levels across the firm's multiple offices in Bermuda and the US."
Ryan Robinson Perinchief said: "It is truly an honour to have received such a generous commitment from HSCM Bermuda to develop the next generation of Future Leaders in the corporate sector.
"They have shown that they are not only interested in donating funds, but also their time and expertise based on the personal commitment of every member of their team. It is exactly these types of partnerships which can help to bridge the gap in leadership – based on a vested interest in developing the potential of young Bermudians and respect for their diverse and unique contributions."
Elaborating on plans to launch the internship programme from as early as this summer, Mr Robinson Perinchief stated, "Two Future Leaders – Adriana Burchall and Jaiden Furbert-Jacobs – had already been selected for internships at HSCM Bermuda prior to the announcement on their own merits. Jaiden is currently pursuing a Bachelor's in Actuarial Science at Penn State University while Adriana is studying Actuarial and Data Science at St. John's University in New York."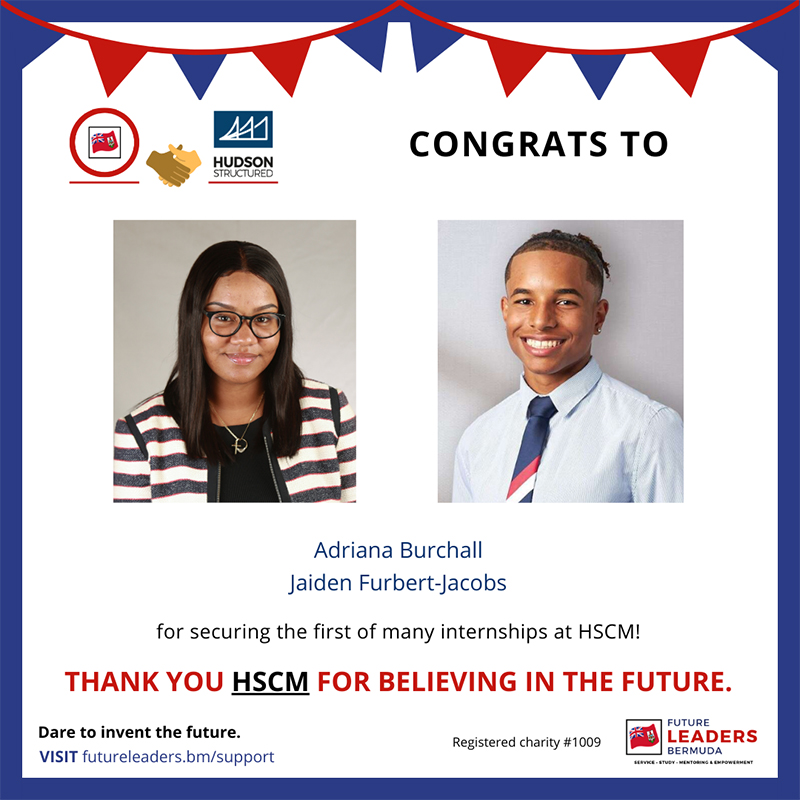 "We have already begun raising awareness among other Future Leaders and our network of families who may have students that are curious about a career in the financial sector, and we have no doubt that this new bridge will establish connections that are built to last and endure.
"We really could not be more grateful to HSCM Bermuda for opening the door to invaluable opportunities which will have a real impact on Bermuda's future."
"For those wishing to support Future Leaders Bermuda, please visit their website to join their mailing list or email info@futureleaders.bm to learn more."
Read More About