Bermuda's Madelyn Moore has been named the Western Athletic Conference [WAC] Women's Swimmer Of The Year after an impressive performance this season which saw her win multiple gold medals and set new records.
WAC covers multiple U.S. states, with athletes from schools located Arizona, California, New Mexico, Utah, Washington, Illinois and Texas taking part on their various events.
The school's announcement said, "One Western Athletic Conference Swimmer of the Week award, a UNC Record in the 100 back, three gold medals and now add WAC Swimmer of the Year to the accolades this season for Madelyn Moore. Moore dominated the sprints all season long, including during the WAC Championships.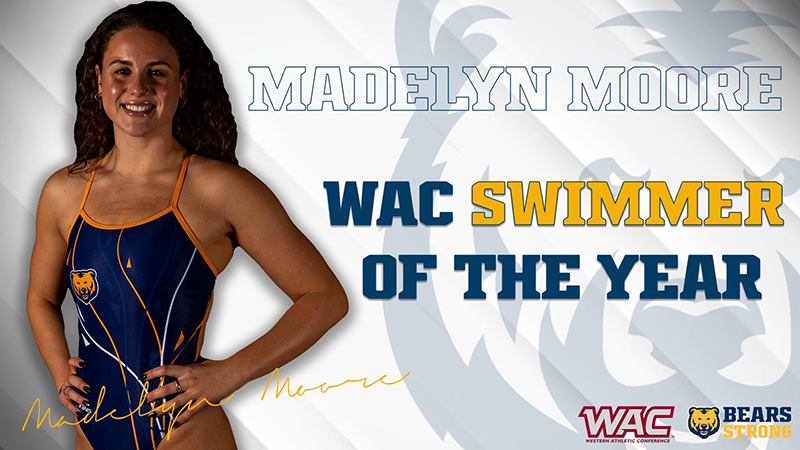 "The Bermuda native won WAC Swimmer of the Week honors after a monstrous performance during the quad dual at Air Force, where the Bears swept the Falcons, Colorado School of Mines and Colorado Mesa en route to becoming the top program in the state in 2020-21.
"Individually that weekend, Moore took the top spot in the 100 free [50.14] and 50 free [23.00].
"As the opening leg of each relay, Moore set the tone and paced the Bears to wins in three wins in four. In the 200-yard freestyle relay, her opening 50 of 22.77 was just .01 off an NCAA "B" cut time.
"Upon arrival in St. George for the conference championships, no one was going to stand in Moore's way.
"Moore swam a lightning-fast 22.53 to win the 50 free on night one, broke the school record twice in the same night in the 100 back on day three [54.10] and was anchored the final leg of the winning 400 free relay to close out the championships in dramatic fashion.
"Heading into her senior season, Moore owns three school records [50 free, 100 free and 100 back] and was part of four relay teams that shattered school records."

Read More About